Pexels is an app available at the Office Store which brings free high resolution stock photos for PowerPoint. The add-in is a great resource for presenters who require searching through images for their presentation decks. Instead of wasting hours looking for appropriate images, you can get royalty free images right from within PowerPoint using Pexels.
Pexels Add-in
You can add the Pexels add-in via the Office Store in PowerPoint.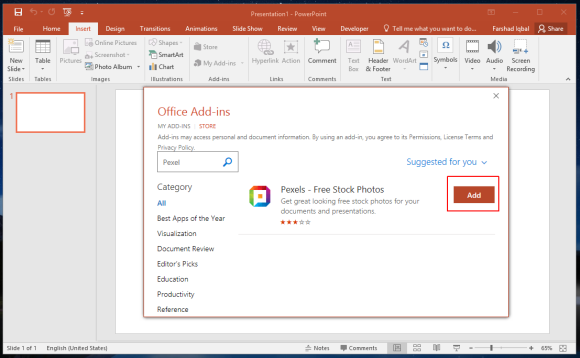 Search for Free Stock Images within PowerPoint
The image library offered by Pexels is much better than the default search options in recent editions of PowerPoint, which allow searching for images via Bing and Flickr. Instead, you can search images via keywords using a simple mechanism from within PowerPoint.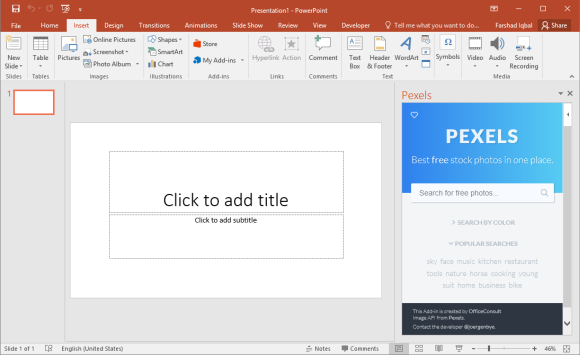 Free Images for Personal and Commercial Use
When you search for a keyword or phrase, Pexels shows a number of royalty free images. You can pick an image and add it to your slide. The images load in large sizes, so you can resize the images according to need. Basically, the Pexels add-in is an extension of the Pexels website which offers free stock photos that are free for personal and commercial use. Furthermore, none of the images need any attribution to the owner. You can even modify and distribute images without any issues.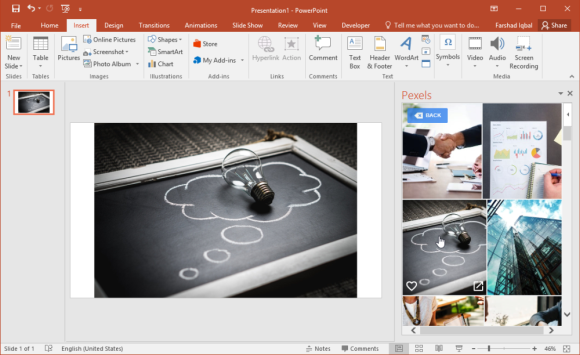 Images acquired via Pexels can be great for not only inserting within slides but also for making presentation backgrounds. You can acquire relevant photos and make them presentation or template backgrounds to make your content stand out. Since these are high-resolution images, they are quite eye-catching and can be great for creating attractive slides.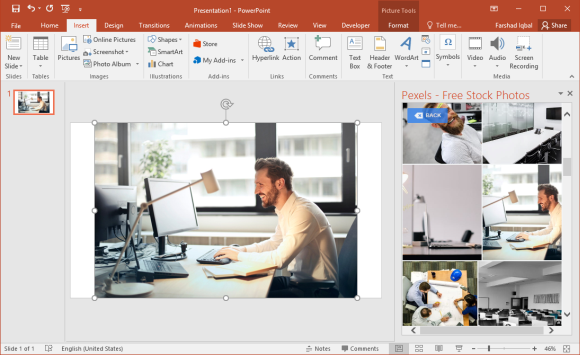 The Pexels app (add-in) for PowerPoint can also be installed via your Microsoft account from the Microsoft AppSource link given below. Pexels add-in is compatible with Office 365, PowerPoint Online, PowerPoint, 2013 and later editions like PowerPoint 2016.
Go to Download Pexels Add-in