Many business establishments usually practice keeping a petty cash fund. A Petty Cash Fund comprises of a small amount of cash kept on hand in the store or business establishments for certain purchases. Such purchases are small enough and unusual so they do not need to go through the typically rigorous purchase and disbursements process. Nevertheless, the petty cash must be closely safeguarded and monitored to prevent discrepancies and deter theft.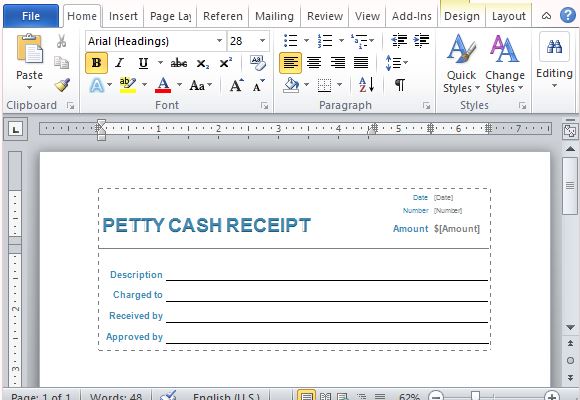 User-Friendly Receipt Form Template
In your business, office or organization, you can assign a personnel or custodian to assign, document, and keep petty cash funds. A good practice involves keeping a systematic procedure for recording and releasing these petty cash funds. You can use the Petty Cash Receipt Form for Word to create complete and professionally made petty cash receipt form for your business.
This Petty Cash Receipt Form for Word is a free Word Template that you can use and customize for your business. This is a reliable receipt template that all your employees must fill out when receiving cash from the petty cash voucher.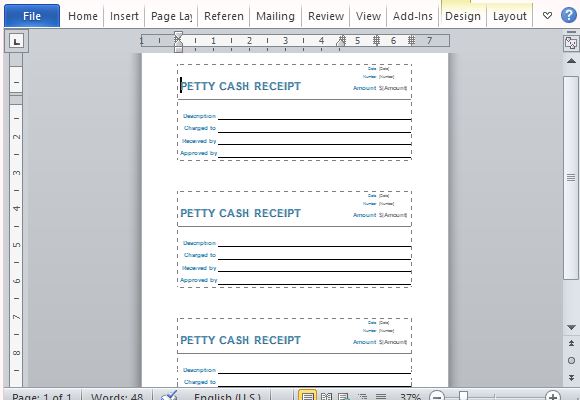 Professional Design and Layout
The template contains spaces to record the Date, Receipt Number, Amount, Description, Name, and Charged to details of the petty cash. The template also has enough space for the names and signatures of the person who received and approved the release of the petty cash fund. Thus, you can be sure that your petty cash is spent for the business and is not being misused.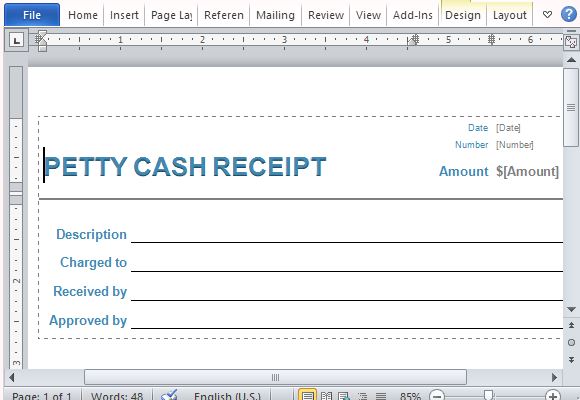 This business template is designed and laid out primarily to be functional for business use. Every space in the template is carefully thought of. The template even conveniently fits in three receipts in one page for economy and practicality. You can print as many as you like for your company and even modify the template to suit your own branding.