Any establishment involved in business must have a way to track their financial status in terms of sales, expenses, costs, profits, cash flow, and so many more. This will help you set your financial goals as well as determine if you have met each of them during your annual or quarterly reviews. In this article, we will show you how to perform a corporate earning analysis using Microsoft Excel.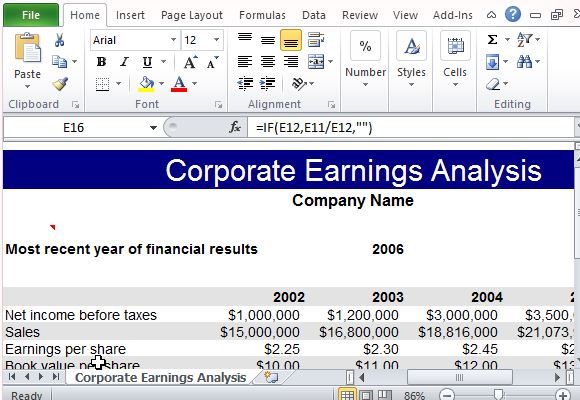 Instead of spending money on buying software, you can actually use this Corporate Earnings Analysis Template, which is freely downloadable for Excel. This Corporate Earnings Analysis Template lets you perform fundamental equity and stock analysis for your company, especially for your corporation, where there are many stakeholders. The earnings is the amount on which you compute for your corporate tax. Through the template, you can see how much your corporation earns.
Professional Financial Template for Free
This open-source Corporate Earning Analysis Template for Excel also allows you to record relevant and specific financial data within a given timeframe. From there, this free Office template utilizes its built-in formula and formatting to come up with an analysis of your corporate earnings.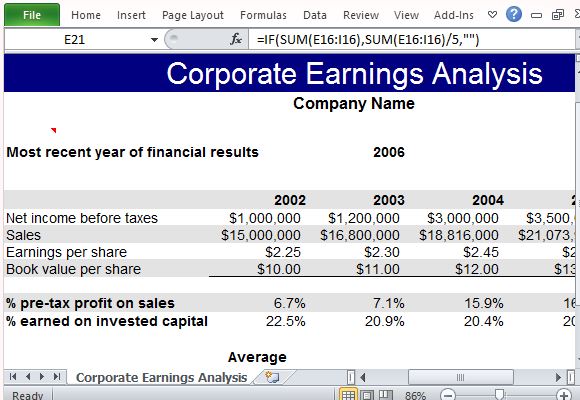 You can easily see how much your corporation has grown financially, which can also allow high-level decision makers to determine the next step of the organization. You can record your net income before deductibles such as taxes, sales, earnings per share and the book value per share for each of your shareholders. This data are displayed on a yearly and quarterly basis, allowing you easy access to the information you want to see and show to your stockholders or shareholders.
Report to Your Shareholders
The Corporate Earning Analysis Template also shows your pre-tax profit on sales percentage and the percentage earned on invested capital. The built-in formula will then automatically show you an accurate analysis of your corporation's average profit and earnings.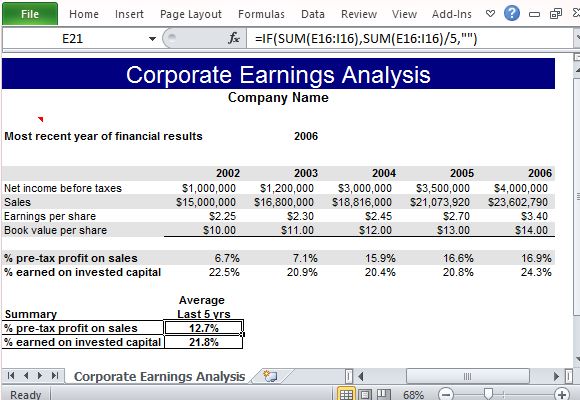 This template will also make it easy for you to forecast future earnings, predict business trends, and anticipate price changes. If you are in a corporation, this is perfect for you to track your investments and earnings on a quarterly or yearly basis.
Go to Download Corporate Earnings Analysis Template for Excel