Parent Teacher Association Meetings, also known as PTA Meetings, are opportunities for parents to talk with their children's teachers and discuss school activities, upcoming events, and any change in school rules and regulations. A PTA meeting is a way for parents to be updated about events and changes that affect their children's academic life. Some parents become active members of the PTA and are able to participate in decisions and events within the meetings.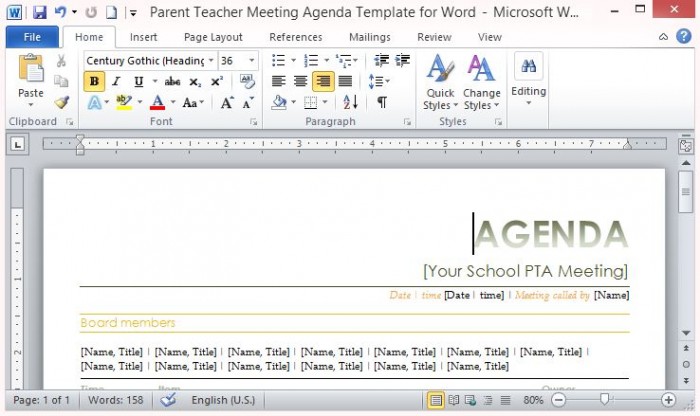 Parent Teacher Meetings are important in getting the students' parents involved and there are templates that help PTA member's record the points discussed in these meetings. The Parent Teacher Meeting Agenda Template for Word allows you to plan your meeting agenda and schedule, list talking points, and the time allotted for each talking point or issue raised. This is among the various free Office templates for making meeting agendas. It is a convenient tool for recording PTA meeting discussions, also known as minutes.
This meeting agenda template for Word contains a header where the date, time and person responsible for calling the meeting is located.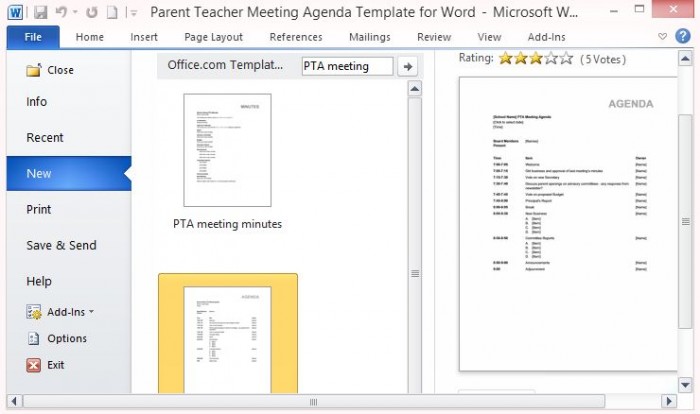 This agenda template also includes an area where the names and titles of board members can be typed in. The body of the template contains three columns: Time, Item or Activity, and Owner, which contains the name of the person responsible for the given activity.
The template contains pre-written Items, such as Welcome remarks, Old business and approval of last meeting minutes, Votes on certain issues, Committee reports, and important Announcements, to name a few. From this, you can conveniently plan your parent teacher meeting by adding your own agenda, talking points and time allotted for each individual, as well as keep track of the various duties assigned for particular events. Like many Word 2013 templates, this Parent Teacher Meeting Agenda Template is highly customizable for your own school PTA. You can also easily create a printable document for your parent teacher
Meeting by modifying content and format within the template according to your guidelines and preferences.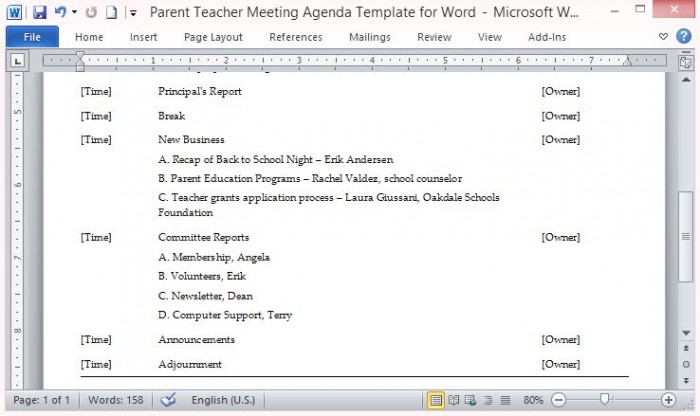 This template works best for Microsoft Word 2010 and 2013. This template can also be used for documenting business or organizational meetings.
Go to Download Parent Teacher Meeting Agenda Template for Word