Science topics need not be deemed boring or even nerdy. Science is all around us and, with the right approach, science presentations can be very interesting and cool. For students, teachers, professors, and even scientists themselves who want to create highly attractive presentations, there is a free and professionally designed template available for PowerPoint 2007 and later versions.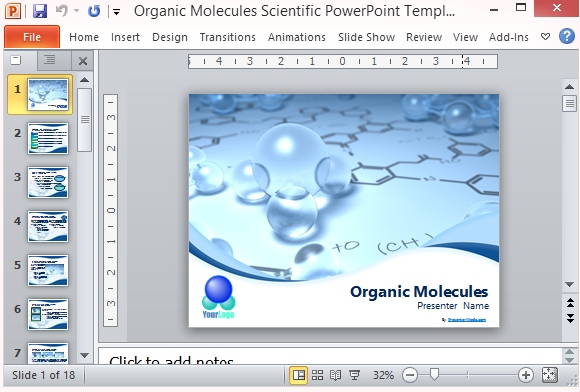 The Organic Molecules Scientific PowerPoint Template is a 3D template featuring bubbles and molecular bonds in a gradient blue background. This free template can be downloaded for science projects, experiments, and classes for that fresh and organic look that will definitely leave an impression on your audience.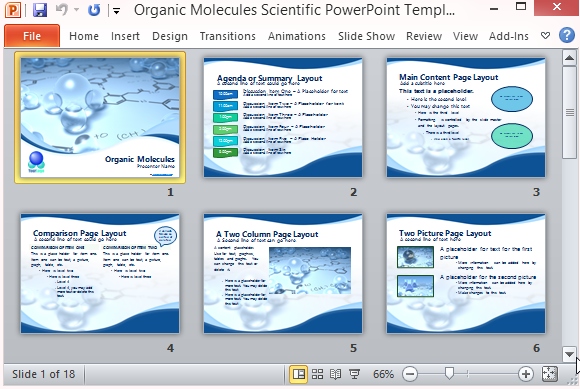 This free Organic Molecules Scientific PowerPoint Template was created by PresenterMedia. This template contains a title slide which shows glossy organic bubbles floating on a sheet of written organic compounds or molecular bonds. From the image itself, the audience can already know what to expect from the rest of the presentation. The title is written underneath the image.
The rest of the slides contain various layouts all packaged in a professional, clean, and uniform background. Some of the slide layouts are even designed to let you present graphs, charts and other images. Like in the image below, you can also use a slide with SmartArt objects which can more effectively depict your information in a visual and more eye-catching manner.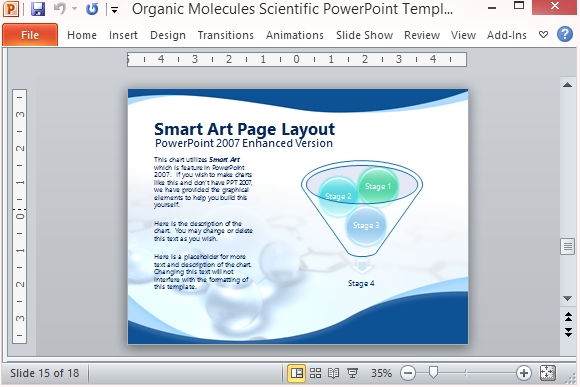 There is also a set of two tables that you can use to compare results and other data. Another layout sample allows you to embed photos and write descriptions below.
This scientific PowerPoint template also lets you conclude your presentation with a summary or agenda layout. You can use this to give your audience a preview of your topics for discussion, or to wrap up your presentation. With this layout, you can prepare a schedule or a timeline.
Go to Download Organic Molecules Scientific PowerPoint Template