If you want a visually appealing template for Google Slides, you should check out the Open Book Google Slides Template. This free template comes with some spectacular graphics that can help you keep your audience visually hooked when presenting your slides.
Free Google Slides Template with Premium Quality Graphics
The slide that starts the deck comes with an illustration of a notebook. You can introduce your topic using this slide by adding a title, logo and presenter's name.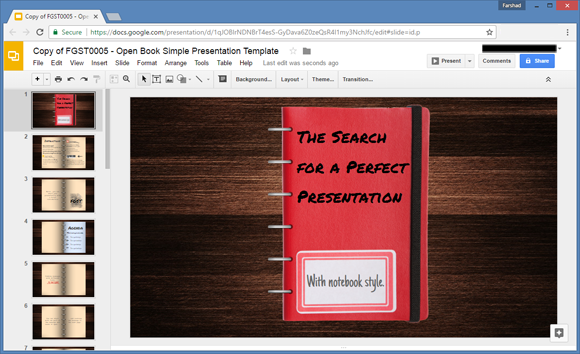 Usable with Google Slides and PowerPoint
There are a total of 20 slides in this deck, with 19 content slides. The template has been developed by Free Google Slides Templates, which is a website that offers free templates which can be used for both Google Slides or PowerPoint. To use it with the former, simply visit the template page via the link at the end of this post, go to the link to open the template in Google Slides and make a copy.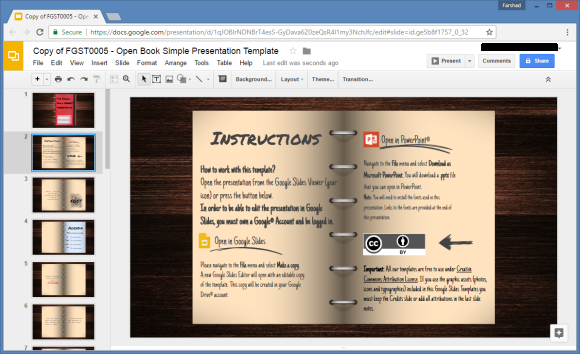 Innovative Slide Designs
What really sets this template apart from other Google Slides templates are the uniquely designed slides that offer great visual depth for the viewer. These slides are easy to edit and your added content will be visually enhanced due to the high-quality graphics that make this template extra special.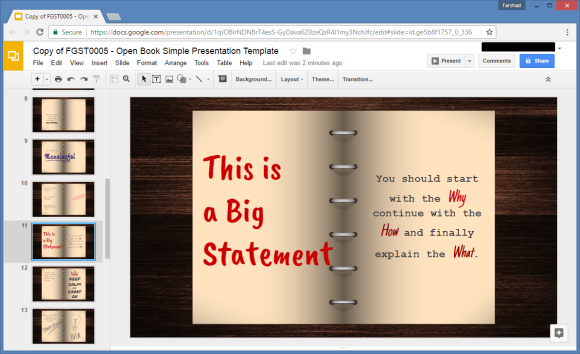 You can use this template for making anything from content slides, depicting charts, comparisons and the like. There is also a credit slide where you can talk about the key individuals related to your presentation or simply mention the team involved in making the presentation.