With many natural catastrophes occurring in greater magnitude and many of the world's resources falling into ruin, many people are now being much more environmentally aware. Many of them call for radical change or even just a little change in the lifestyle towards greener, more earth-friendly living. If you or your company needs to present for a nature-themed or environmental cause, then you will find this template useful.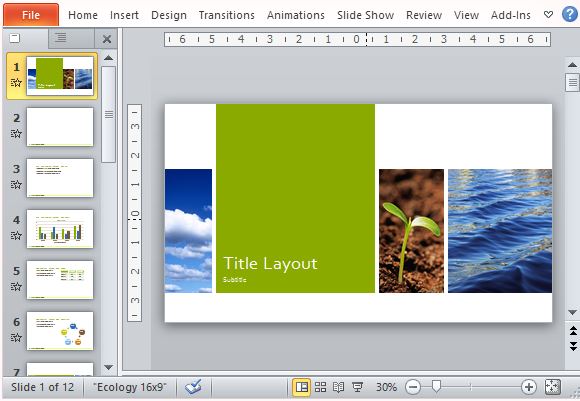 This Nature Photo Presentation Template for PowerPoint is a template that magnifies the diverse beauty of nature in its various forms. This is a PowerPoint 2013 template that still has backward compatibility with earlier versions. It is in a widescreen format to maximize the horizontal space for showcasing professionally taken photos and images.
With a clean, refined, simple and sophisticated layout and design, this Nature Photo Presentation Template for PowerPoint features 12 slides that you can interchange or mix and match depending on your presentation needs. Like our previously reviewed nature inspired free Templates for Microsoft Office, you can use this template to more effectively convey your message of natural beauty, ecological conservation and safeguarding Mother Earth.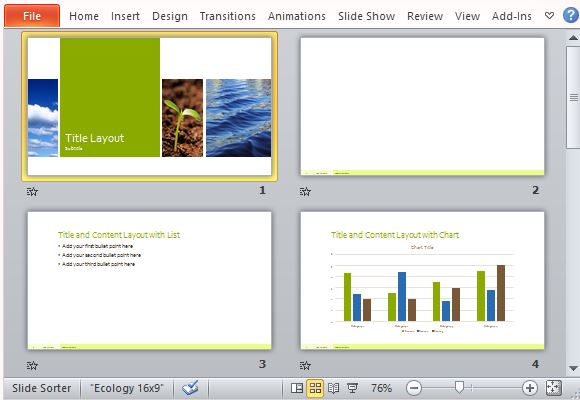 This template contains 12 layouts that has the nature photo theme to serve as a reminder for your audience to take care of the environment and do their own part in lessening pollution and their carbon footprint.
The cover slide contains the presentation title, with various photos that will immediately draw your audience in and give them an overview of what your topic will be about. The inside slides contain various layouts that still maintain the same theme. However, these slides allow you to present your data in various ways that do not bore your audience but still keep them informed.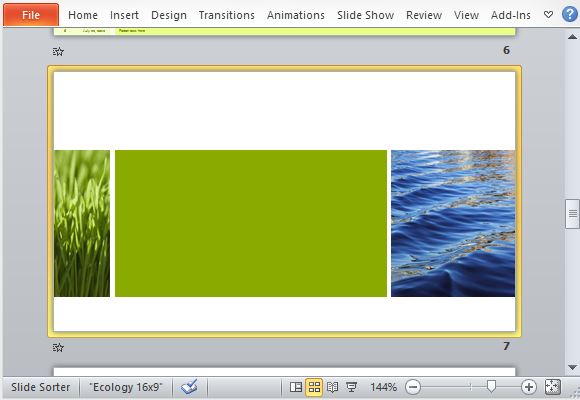 Whether for work, school, organizational or personal use, this template will make a good impression to your audience. If you are in a non-profit environmental-driven organization, you can use this template as well. For business, you can use this to show your environmental thrusts and community programs, also known as social responsibility.
Go to Download Nature Photo Presentation Template for PowerPoint