If you're a movie or television buff, then you may have talked about your recent watch with your friends who are also like you. You may have debated on how this movie or TV show is a flop or a hit and why. Or, you may just want to simply have a list of movies or TV programs that you and your family loves. For whatever reason, movie and television fans would definitely enjoy this Movie List Maker for Excel.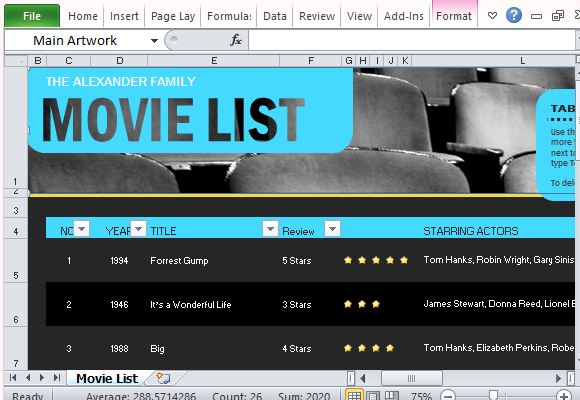 With its beautiful and stylish free Office template, you can create a list of movies you would be proud to show and share with family and friends. The Movie List Maker for Excel is a free template that lets you list down the flicks or TV shows that you have watched, the actors, directors, and other notes. You can even create a review with this Movie List Maker template.
This list maker template is available in Excel 2013 and has backward compatibility with earlier versions. It has a beautiful, all-black background. The image on top of the worksheet is that of rows of movie seats, letting you know immediately that this worksheet is all about Hollywood. The title Movie List is set in bright blue to easily catch your attention.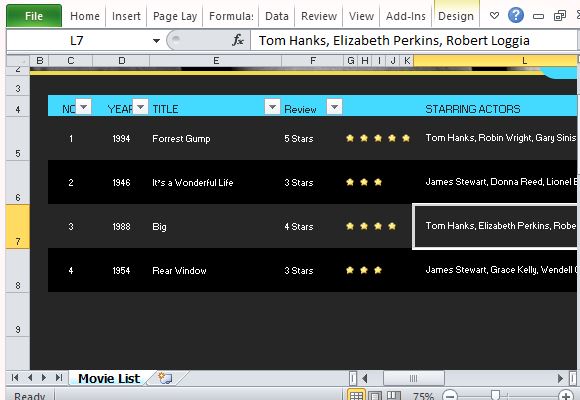 This Excel template contains a table where you can type in your movies or TV shows. The table's column header is also in bright blue to complement the title. The rows below alternates in dark grey and black for easier readability. Each column is designed to show the Movie or TV Show Number, Year, Title, Review, Actors, Director, Genre, Rating, and Comments.
The Star Rating lets you give a review of what you watched by measuring their appeal to you in stars. You just click on the cell you want to write your review in, under Review, and choose from the drop-down list box just how many stars you would give to what you watch. Beside it, the number of stars corresponding to your rating automatically lights up. This system also allows you to easily filter through your movie and TV show collection based on their ratings and your favorites.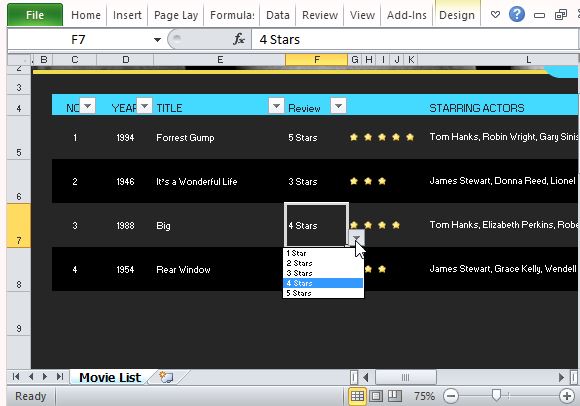 This template works with Excel 2013 and earlier versions.