Whether you are in the brand-new car dealership or in the used car business, you may be familiar with a Motor Vehicle Bill of Sale. Alternatively, if you have bought a car, whether used or brand new, you may have also encountered this bill of sale for your motor vehicle, whatever brand, make or model it could be. A Motor Vehicle Bill of Sale is a document that records a transaction between two parties, which involves a vehicle that is for sale and has been sold at an agreed upon amount. 
The Motor Vehicle Bill of Sale Template for Word that you see above can be a useful template for your business to record the sale and transfer of a motor vehicle to the buyer.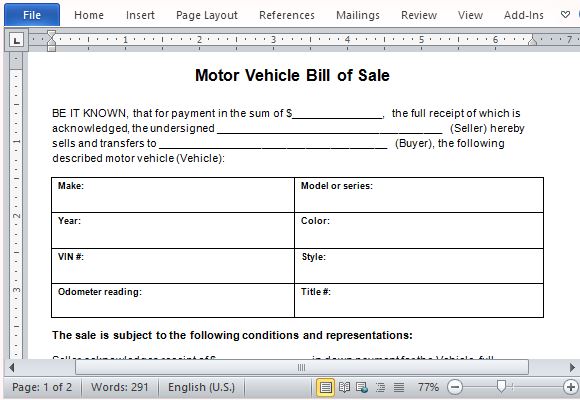 Protect Both Parties Involved in Sale of Vehicle
Like many free Office templates we have reviewed earlier, the Motor Vehicle Bill of Sale Template for Word serves as a legally binding document. It also serves as a receipt for the sale and transfer of a particular vehicle from the seller to the buyer, with a specified amount, payment terms, and other conditions agreed upon by both parties.
This Motor Vehicle Bill of Sale Template for Word shows various information relating to the car, helping ensure the quality and condition of the vehicle. It includes information such as the Make, Year, Model or Series, VIN Number, Title Number, Style, and Color. It also indicates and establishes the official mileage through the odometer reading upon transfer or sale of the vehicle.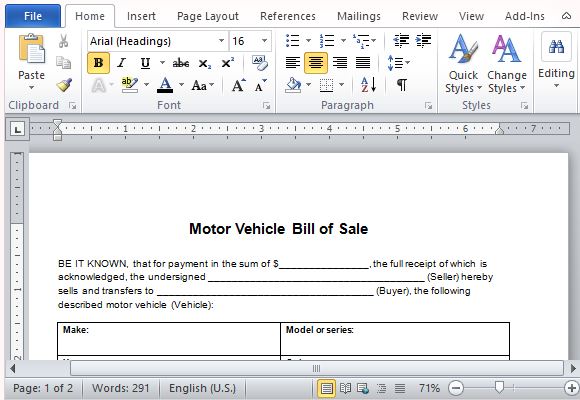 This bill of sale template for motor vehicle shows acknowledgement or receipt of down payment for the vehicle from the buyer. It also states the payment terms and conditions, especially as to when the full payment shall be made, which then allows for the title transfer to the seller after a set amount of days thereafter.
Follow Guides and Be Prepared
For first time buyers, the template can help guide them to have the vehicle checked by a car expert or mechanic. The template also states that there will be no sale if the motor vehicle is found to be unsatisfactory to the buyer.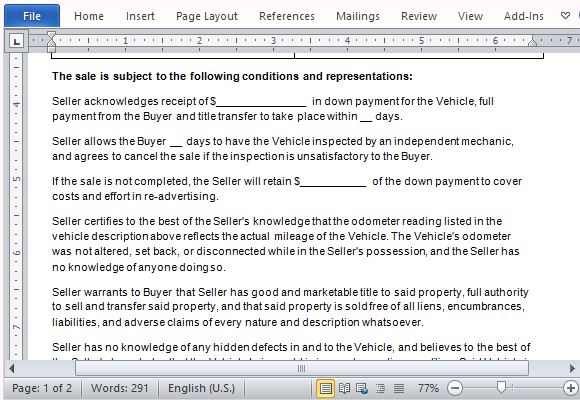 So whether you are a buyer or a seller, never walk out of a motor vehicle sale without your own copy of the Motor Vehicle Bill of Sale to protect yourself from any liabilities in the future.