One can easily create an Excel spreadsheet for home budgeting but making it elaborate enough to display statistics and visualizations by month and year can be a little more complicated, unless you have a readymade template to make your job easy. The Semi-Monthly Home Budget Template for Excel is a free template available at the Microsoft portal to help you easily create your home budget with elaborate details that will be automatically computed for you once data is entered.
Enter Income and Expenditure to Get Detailed Information for Your Budget
The template is divided in four worksheets, namely Dashboard, Expenditures and Income, Budget Reports and Data Lists. Each of these worksheets are quite easy to use and present different aspects of your budgetary data with little data input.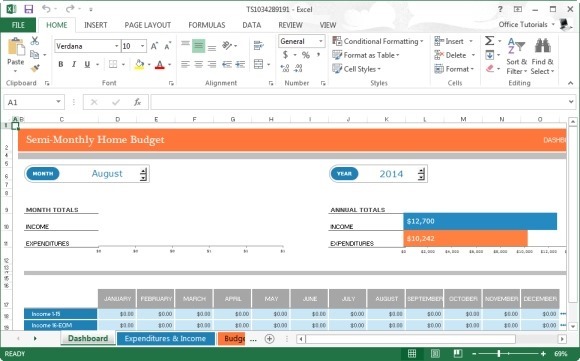 The Dashboard worksheet can be used for adding your income and expenditure by month, whereas the Expenditures and Income worksheet provides tables for adding more elaborate information such as the date, description and amount of your income and expenditure.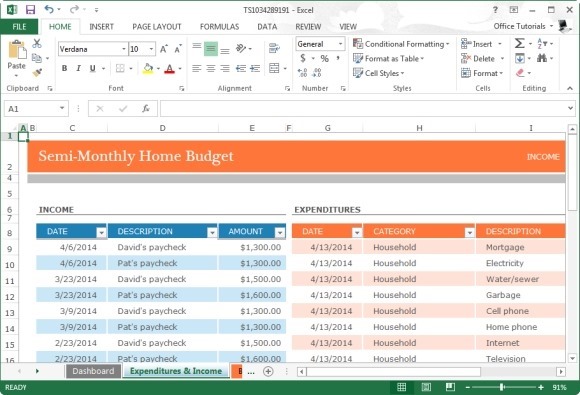 View Budget Visualization for Budget Timeline
The Budget Report worksheet is quite useful for viewing a timeline for your expenditure and income with the help of pivots and graphs. You can add and edit categories for your expenditure and see at a glance what type of expenditure may be straining your budget. Additionally, you can make use of the Data List worksheet to further add details regarding each minor or major aspect related to your monthly expenditure and sources of income.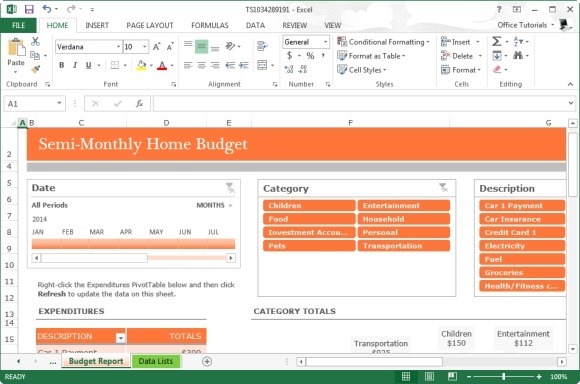 This Excel template has been designed for Microsoft Excel 2013 but also works with earlier versions.