Keeping an updated record of your medication is crucial as it helps you avoid any mistake that can be dangerous to your health. For you and your family, tracking your medicines ensures you are in shape and you don't forget a dose. For nurses, doctors, or medical practitioners, this medicine tracker lets them know if certain medicines can be taken together, or if certain illnesses are caused by any of the medicines you are taking.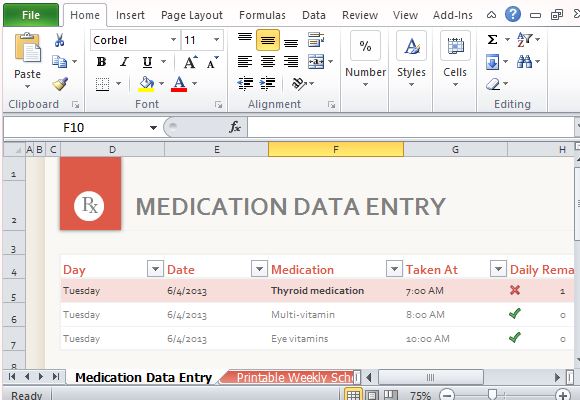 Keep Tabs on Your Tabs
The Medication Schedule Organizer for Excel allows you to record the medicines and vitamin supplements you have taken to ensure that you do not forget anything and that you are taking the right dose at the right time and intervals.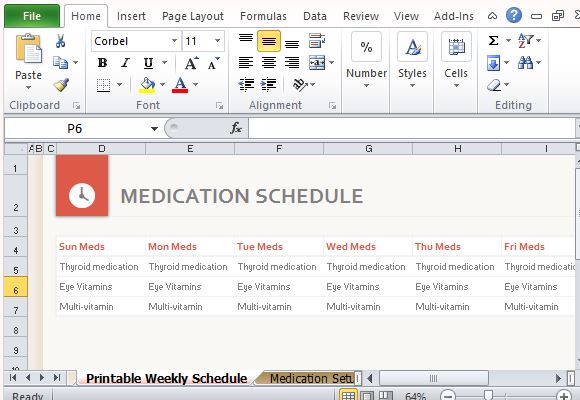 This health template works best for Excel 2013 and is still compatible with earlier versions. It contains three worksheet tabs designed for specific functions. The first tab is the Medication Data Entry that allows you to log your medicine and supplement intake every day and at prescribed times of the day. Here, you can choose the Day, input the Date, log your Medication and record the time you have taken it.
Never Miss a Dose Again
The second tab contains the Printable Weekly Schedule. This is a guide that you can create for your medication every day of the week. This is designed to be printer-friendly so you can post it on your fridge, medicine cabinet, bedroom, or practically anywhere so you will always be reminded of your schedule.
Related: See our reviews for more Free Templates for Microsoft Office.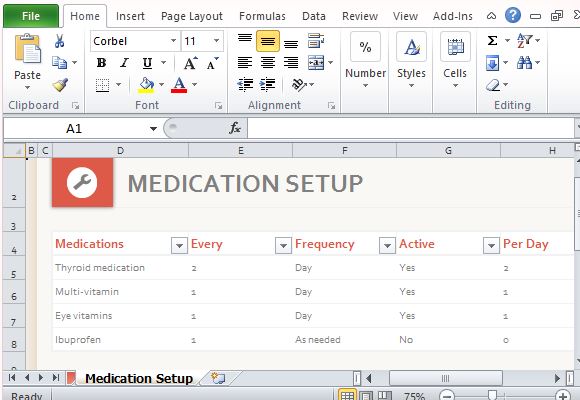 The third is the Medication Setup tab where you can arrange your medication schedule, such as the frequency, interval and dose of your medication or supplements.  This information is linked to the Medication Data Entry so that the tab can show if you have taken your medication on time and how much dose you need to take that day.