To ensure that your employees are highly knowledgeable at their jobs and that they perform at their optimum level, they should undergo training. When there are new trends in the industry, training is also important to keep them up-to-date. After all, a well-trained workforce is a valuable asset to any company.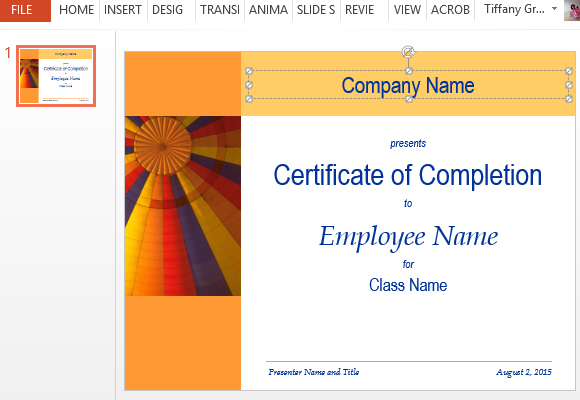 If you are one of those companies who greatly invest in keeping your employees well-trained in the best practices and in the latest trends about their jobs, then you know that your employees need to have a training completion certificate. Whether you are conducting an in-house training or sending them off on a business trip, a training completion certificate serves as proof of the knowledge they have acquired during training.
The Printable Training Completion Certificate Template in PowerPoint is a reliable template for providing your employees a certification after they have succeeded in completing certain training. Whatever the training's objectives are and whatever industry you belong in, this template can be used because of its versatility and ease-of-use.
This printable training completion certificate features an orange theme, with a bright image of a hot air balloon on one side, suggesting height or progress. The different shades of orange cleanly frame the certificate, and there is enough white space for all the training details.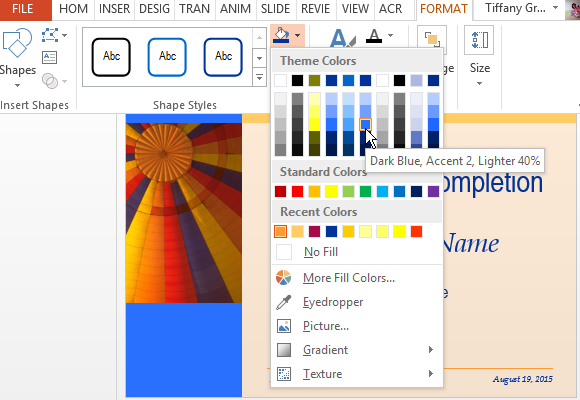 The certificate template comes with text placeholders and guides to show you how your own certificate would look. You can simply type in your own information in the given sections, such as your company name, employee name, class name, presenter name and title, and date of the training.
To further customize this template, you can change the color scheme with your own company colors. Aside from company name, you can also include your company logo and slogan. You can even watermark your company logo or the training logo on the certificate.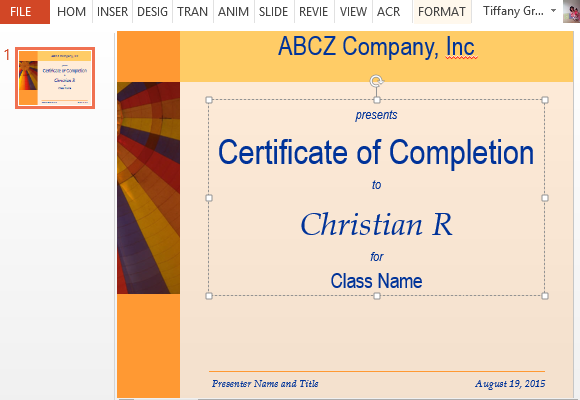 As a presenter you can find it convenient to travel and have this certificate template with you wherever you go to train employees. You can then personalize the template right after the training and give employees each of the printed copies, or you can send the certificate to them digitally via email or even through social media.
Go to Download Printable Training Completion Certificate Template in PowerPoint