Preparing for a party can be a lot of work. Everything must be in place to ensure that the celebration is memorable and successful for the host, the celebrant, and the guests. Because of this, preparing for a party can cost a lot of time, money, and energy. To help save on these three, you can use party invitations templates using PowerPoint to get you started on the right track.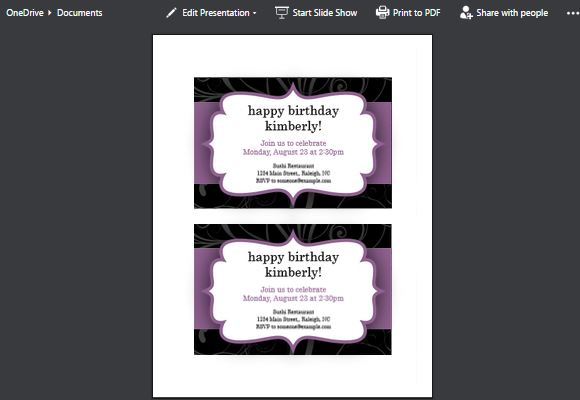 With the following templates, you can make party invitations using PowerPoint Online so that you can quickly and easily give out eye-catching invitations for any party or occasion. The following templates are perfect for many types of events and they have festive yet elegant designs that can make every guest excited about the party.
Start the Purple Party
The Purple Ribbon Invitation Template for PowerPoint is a general-purpose invitation template that can be used for many types of parties such as weddings, anniversaries, graduations, birthdays, fundraisers, and many more. This template has an elegant ribbon design in a purple ribbon and a black background that makes the white overlay stand out. Here, the text is in clear sans serif font that is clear and sophisticated.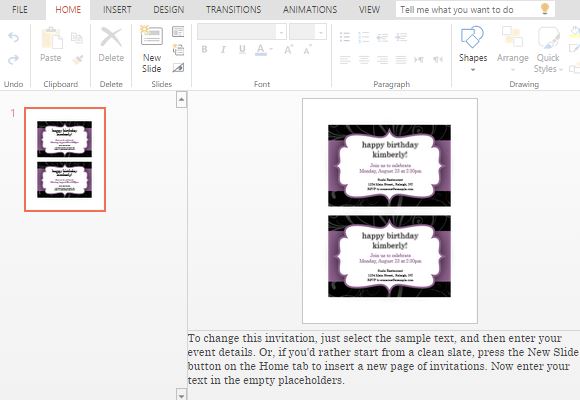 Of course, the template can be modified to suit any other event by simply changing the black-and-purple color scheme. The colors can be changed, for example, to red and green, for Christmas events, or black and orange for Halloween dinners. To change the sample event details, simply follow the placeholders and type in your own event information, such as event title, date, time, venue, and other details.
Two invitations can be printed on one sheet of standard letter-sized papers, making it economical. You can print as many invitations as needed.
Go to Purple Ribbon Invitation Template
Blue and Black Bash
You can get the party started with an eye-catching, high-contrast Blue and Black Party Invitation Template for PowerPoint.  This template allows you to easily create beautiful, professional-looking templates for any occasion in no time.
Because of its layout, this invitation template is great for concerts, theater plays, recitals, homecoming parties, proms, and many other events for schools or organizations. It is also versatile enough for birthdays, anniversaries, and many other formal events.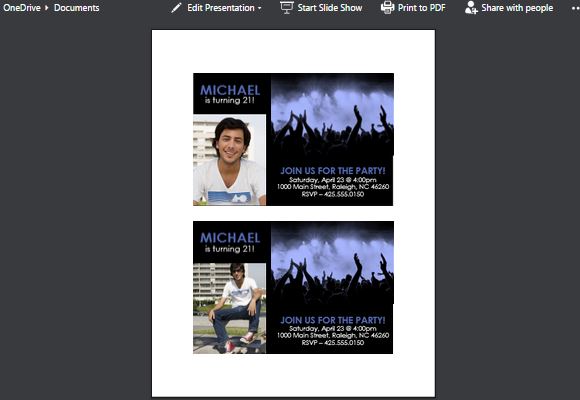 The template features two columns, one for the event title and main photo where you can put the celebrant's photo, or even a company logo, depending on the event. The next column goes horizontally and contains another photo, as well as the event details.
You can change the color scheme to suit your own event, theme, or branding.