Microsoft office offers default options for looking up synonyms of words, as well as built-in translation features for its newer editions. However, it's always good to have an additional source for this purpose, since it can help get some additional help for words which the default Office dictionary cannot account for. The Collins Dictionary add-in provides complete definitions, synonyms, and translations for words in Office applications. Other than complete definitions, this add-in can help you look for synonyms, and translations in Word, Excel and PowerPoint.
Install Collins Dictionary Add-in for Microsoft Office
You can install the Collins Dictionary add-in via the Office Store by going to the Insert tab in any of the supported Office applications.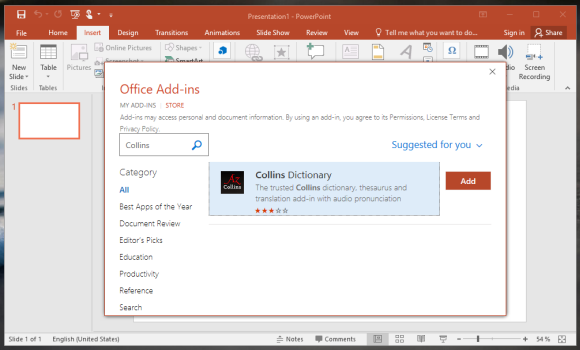 Search for Definitions and Synonyms
After installation, you can begin searching for words or click to select a word from to view its meaning. You can lookup proper definitions for words, as well as go to the thesaurus to check synonyms.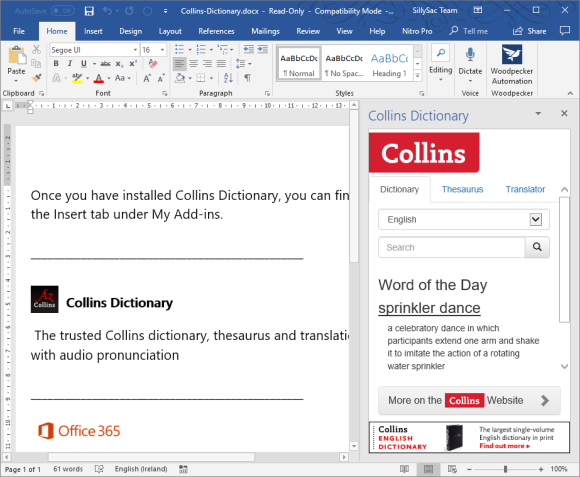 Translate Text in Office Applications
The translation utility offered by this add-in allows instantly translating words in a plethora of languages. You can also select languages you intend to translate content between; such as English to Spanish or Spanish to English.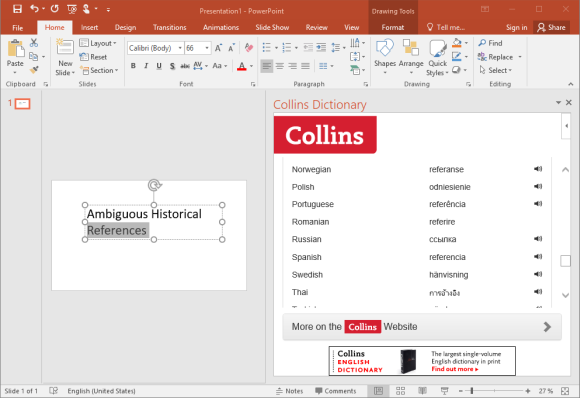 Another great feature of this add-in is that it provides audio pronunciations right from within Office applications. The Collins Dictionary Add-in works with offline and online editions of PowerPoint, Word and Excel. You will require Office 2013 Service Pack 1 plus or a newer edition such as Office 2016 for the add-in to work. If you're using the free version of Office apps (e.g. PowerPoint Online, Word Online or Excel Online) via a Microsoft account and an Internet browser, you can login with your account to install the add-in via the AppSource from the link given below.