Having a brainstorming session is one of the most useful means of creative conceptualization. Brainstorming can help you or your group come up with a main idea out of a horde of random, spontaneous ones. This method can also help in coming up with a solution to a problem, a product or service, strategy, or a theme. Brainstorming is used in advertising, programming, software designing, interior decorating, fashion, and many more.
There are many brainstorming templates that you can use to organize your ideas or present them in a clear, concise and organized manner. The Idea Light Bulb Template for PowerPoint is a beautiful and highly functional free Office template that you can use to present your next big idea.

Switch On The Flow Of Ideas
Because an idea is most commonly represented by a light bulb, this template takes on that imagery and uses a light bulb as the main theme of the template. It is perfect for presenting to your audience your ideas for an advertising campaign, brand name, sales strategy, marketing plan, invention, gadget, concept, solution, and so much more.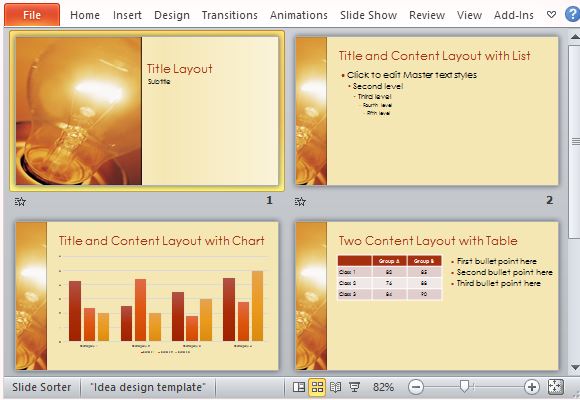 Shining A Light On The Features
This PowerPoint Light Bulb Template is professionally designed and contains five layout options: Title Layout, Title and Content Layout with List, Title and Content Layout with Chart, Two Content Layout with Table, Two Content Layout with SmartArt. You can still add other slides by duplicating the sample slides and putting in your own content or customizing the layout.
The style of the texts and the visual objects perfectly match the color scheme of the background, which is a light bulb photo. The photo is also cropped on various slides to serve as a border on the slides. The background is cream-colored to match the bulb and be light enough for readability.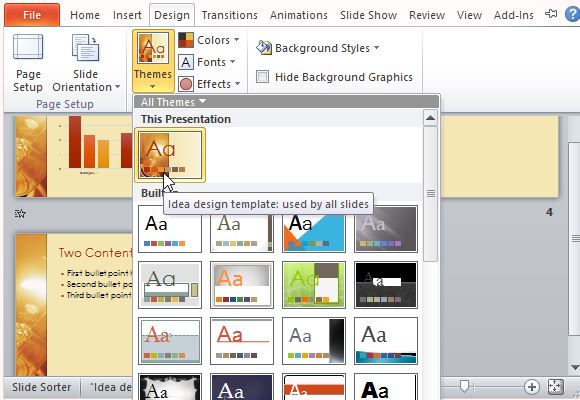 This template has been designed for PowerPoint 2013 but you can also use it with earlier versions.