The Household Organizer Template for Excel Online is a simple spreadsheet for managing your household tasks, grocery list and to organize your work more efficiently. You can use this template to keep track of your expenses, chores and buying list, as well as collaborate with other household members online.
Manage Your Budget
The first section of this Excel Online template is labeled as 'Budget'. This is where you can enter your expenses, amount, name of individual in charge of the expense and add notes. This tab also contains built-in filters to help you better manage your budget by instantly viewing specific types of expenses.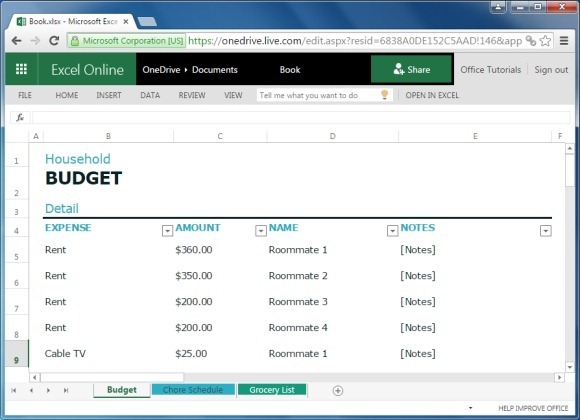 Track Chores
The second tab is labeled 'Chore Schedule'. Whether you have roommates or have delegated tasks to your children or siblings, you can track the chores and keep an eye on complete and pending tasks using this tab.
This section of the template provides columns for adding your chore list, due dates for chores, the names of individuals responsible for chores and a section for adding notes.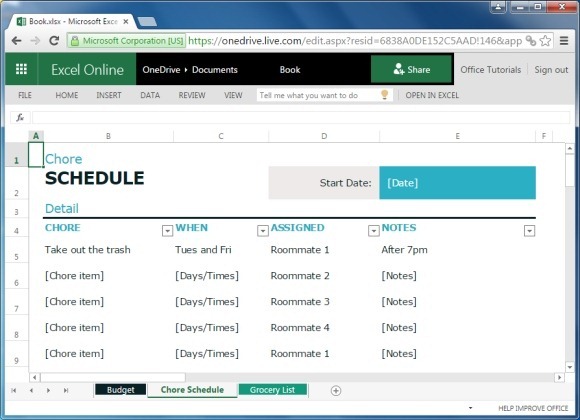 Keep an Eye on Your Grocery List
This section is meant to record and track your grocery list and has columns for adding the item name, quantity and additional notes.
You can also customize this section to add price and other important information for more efficiently managing your grocery list. The filters can also be quite handy for singling out specific types of grocery items and evaluating your associated cost with them. However, to do that you will require adding an expense section or renaming a section to suit your requirements.
Go to Household Organizer Template for Excel Online