For startup companies, it is important to establish trust from their customers. For those who are already in the business for a time, it is now imperative that the gained trust from the customers is upheld, maintained, and even increased. So whether you are selling a product or a service, you need to establish quality standards that customers can see and appreciate. This quality must continually be maintained–and even surpassed.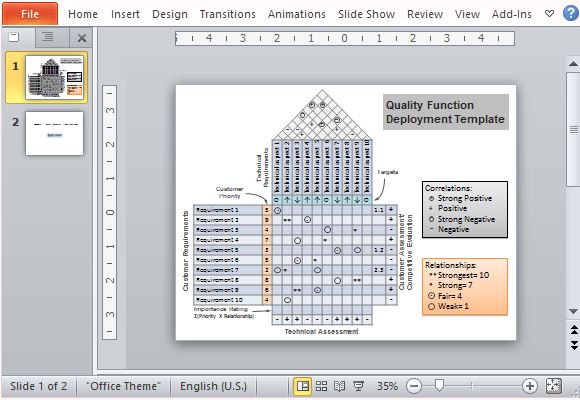 Free House of Quality Template for Microsoft PowerPoint
For businesses, the term QFD may be familiar. It stands for Quality Function Deployment, which is crucial for quality management. QFD is a method of turning customers' expressed wants and needs into product specifications. It is a way for companies to show that they listen to their customers–by coming up with products that exactly meet customer requirements, and thus, getting the trust and approval of these customers.
The House of Quality PowerPoint Template is a professionally designed office template to show the relationships between customer requirements and product specifications, which is an important aspect in QFD. This template is perfect for PowerPoint presentations, when you need to discuss and show complex relationships and concepts.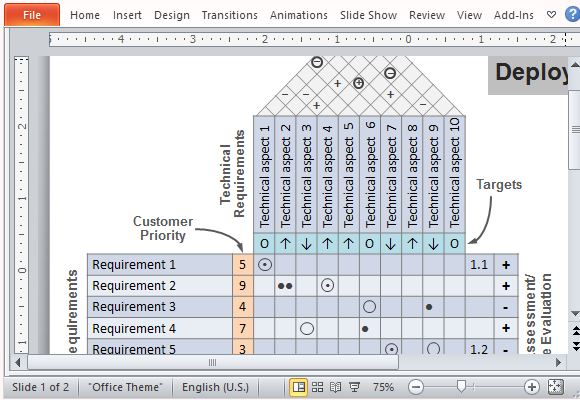 This template shows a "house" that is made up of technical aspects on one side, and customer requirements on the other. This house shows the correlation and relationship of these two factors using the legends that come with the template.
Through this PowerPoint Template, you can see where the strongest and weakest, most positive and most negative lie inside the QFD House as you measure every aspect using the symbols and the grids.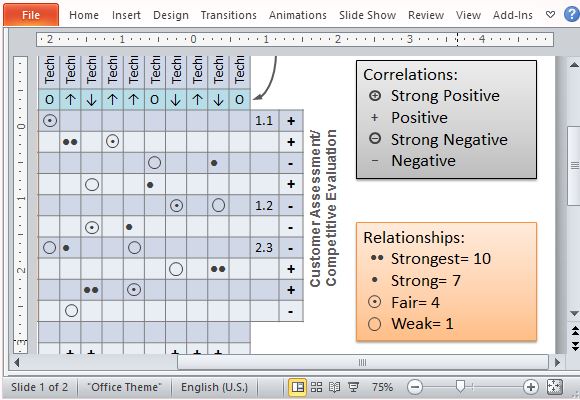 By using this template, you not only assess QFD but also share it with an audience as you can simply insert this into your own presentation. This House of Quality template can be used for marketing plans, business reports, and many other business presentations.