Aside from buying a property or land, constructing your home may just as well be the most expensive investments that you have to make for your family and your future. Having a home construction project can also be stressful, and this is why many people would opt to secure a family that has a house already built, so any renovations are at least minimal and they do not have to start from scratch. However, if you are like someone who wants to build their dream home from the ground up, then you would find the House Construction Budget Maker Template for Excel the perfect companion.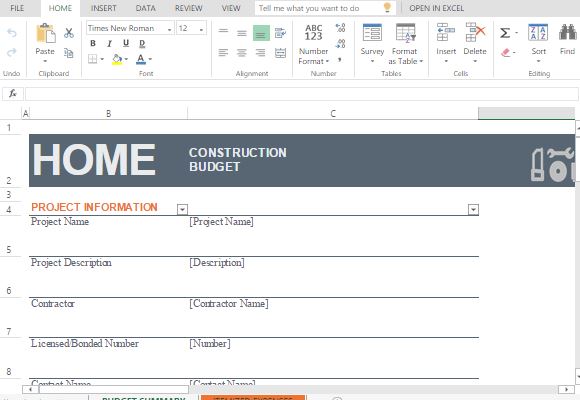 Automatically Update Your Financial Data
This House Construction Budget Maker Template for Excel contains a form-style table that already has given values that you need to fill up for your own construction budget. This premade table contains pertinent details about your construction, such as Project Name, its Description, the name of the Contractor, License Number, relevant Contact Information, including; the Website, Phone, and Address.
Under the information section, you can find the Financial Status table that displays how your funds are being spent. This contains information such as the Cash and Financed amount, Total, Remaining and Used Funds. There is also a corresponding pie chart that automatically reflects the data and updates on the Financial Status table.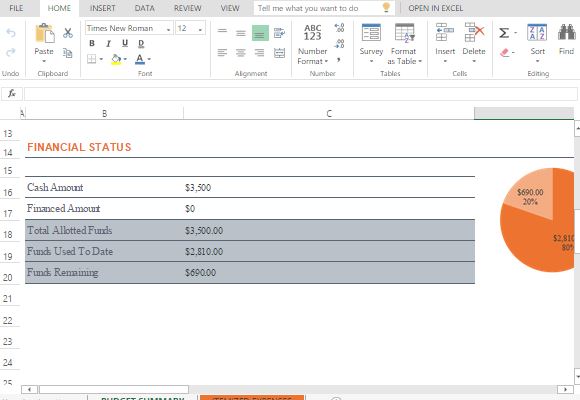 With these automatic updating features and built-in formula, all you have to do is input your data and see if you are going over your budget or sticking closely to it. Meanwhile, the template's clean and functional layout, the information are presented in a way that is clear and updating is a breeze.
Fuss-Free Template So You Can Concentrate on What Matters
If you are including this construction template as part of your report or presentation, you can customize the tables and graphs to suit the theme or design preferences you already have.
The second tab contains the Itemized Expenses table, which contains all the details of the project as it progresses. It contains data on the funds allocated, funds used, and funds remaining.  Below is a table that you can also update to keep track of how various aspects of your home construction project progress. The expenses are categorized between Material and Labor.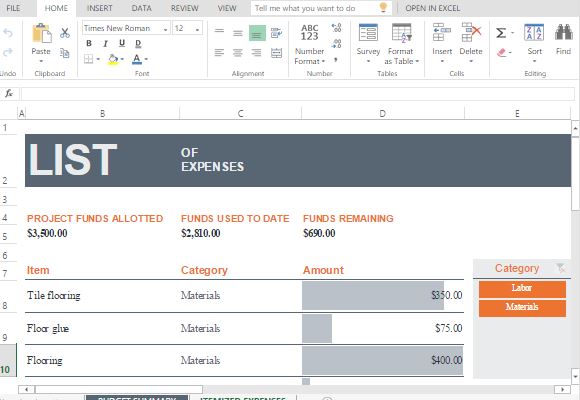 This house construction budget maker template for Excel is great if you are a contractor undergoing many construction projects and you want to keep track of each of them. It is also perfect for homeowners building their dream houses. Additionally, this template can also be used for renovation projects and small building projects.