Working with a group has its share of challenges, whether it is for a group trip or a project. Often times, these challenges are more difficult than when you work alone. Nevertheless, the work has to be done, and it has to be done well. For this, you need to create a to do list to ensure that every task will be monitored and delegated to every member of the group.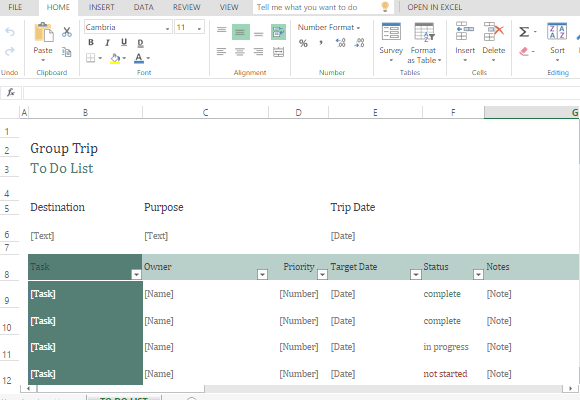 The Group To Do List Template for Excel Online is a handy and reliable template that you can use to help you organize your tasks, assign them to every member of your team, as well as to keep track of your priorities and project progress. It can be used for project management, school assignments, group trips, organizational events, and so many more.
Simple, Easy, Convenient
This template features a simple layout and easy functions that will definitely make tracking your to-dos a breeze. It contains a single worksheet with a header for your project or activity. Underneath are other details, that you may need to include. The template has a Group Trip preset, with Destination, Purpose, and Trip Date that you can easily fill out or edit by clicking on the placeholders.
The To Do List table itself is divided into various columns for Task, Owner, Priority, Target Date, Status, and Notes. This format allows you to easily list the needed tasks as well as assign ownership for each task. The Priority column allows you to assign numbers to determine the most important to the least important tasks. The Target Date ensures you do not miss your deadline, while the Status lets you and the rest of the group know how much work still needs to be done to complete each task.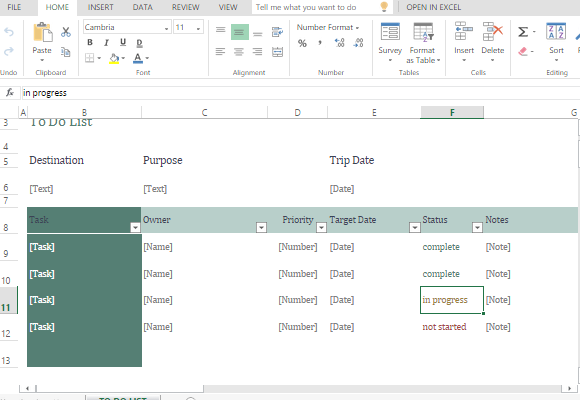 Keep Track of Tasks and To Dos
This free Office template is in Excel Online. You can easily share this to do list template with your group so they will always be updated on your project.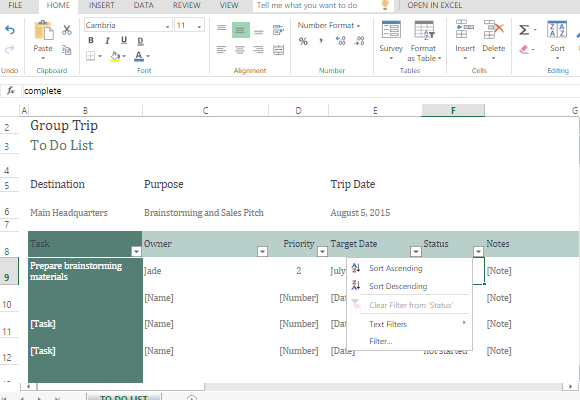 As a cloud-based template, your team can easily update it with their own progress, and you can see the developments of each task as it happens.