An Organizational Structure is a diagram that shows the levels or positions in an organization and how they relate to each other on a hierarchy. It is a visual representation of the professional relationships of the personnel within an organization or a company. It is similar to a family tree, oftentimes also called a Genealogy Tree, in the sense that it is also a diagram showing relationships within a group, this time a family.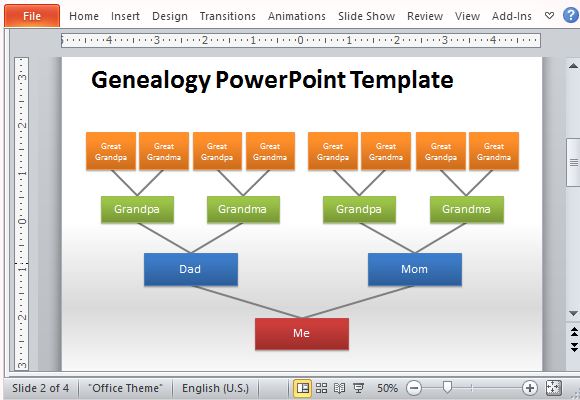 You can create a family tree that you can use to present in your family gatherings, holidays and reunions. Using the Genealogy Tree PowerPoint Template, you can enjoy seeing how your ancestry goes back through generations. As they say, you can never truly know yourself if you never know where you came from.
A Genealogy Tree PowerPoint Template is a wonderful tool if you want to see how your family grew, and where it all began. It would be exciting to find out that you, in fact, may have a celebrity 3rd cousin, or that your ancestry goes back to another country and race. Nevertheless, you can use this PowerPoint Template that contains shapes that form into a beautiful diagram of your family's roots.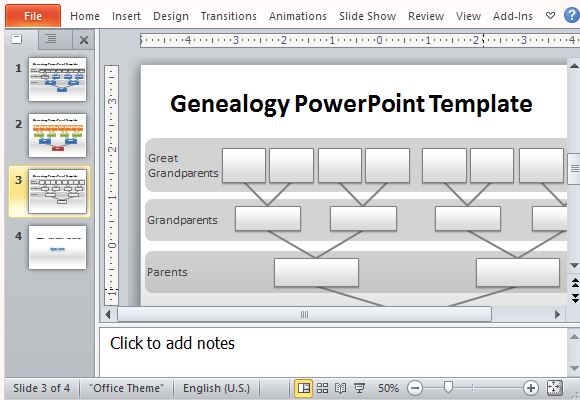 This Genealogy Tree PowerPoint Template is a clean, elegantly designed template that is pretty much standard for every genealogy tree. This template consists of three slides that you can use for different types of presentation themes. Although you can customize and modify the themes yourself, you can also choose from these three slide designs depending on your preference.
This template contains squares and triangles that are connected by lines, showing relationships. Each level shows a category highlighted by lines going across the template. These categories are Parents, Grandparents, and Great Grandparents. To add your own information, just type into the text boxes inside each shape corresponding to your family member.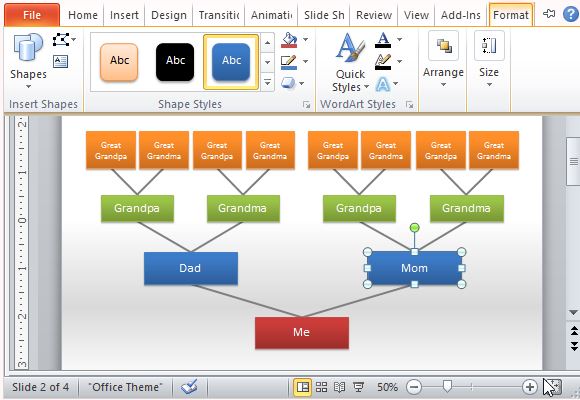 You can download this free PPTX template for PowerPoint from the link given below.
Go to Download Genealogy Tree PowerPoint Template