Many people in need are helped, and environment and social advocacies are upheld through fundraisers. There are many fundraising events for various philanthropic causes and if you are one of those who are planning such events, then you would need a way to help you keep track of donations and charity contributions.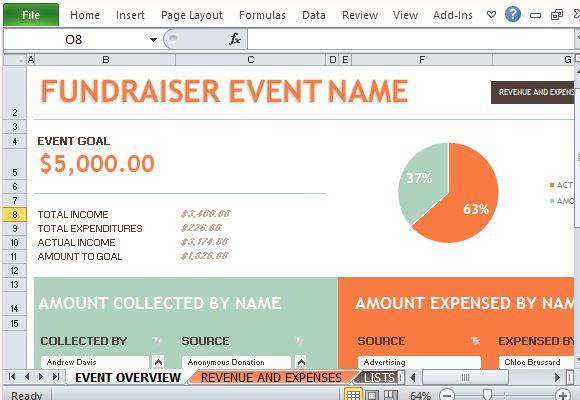 This Fundraiser Event Budget Maker for Excel is a spreadsheet template that is beautiful and functional at the same time. This is a free Excel 2013 template that uses both visual and tabular ways to record and display fundraiser event budget and other information.
This event budget template allows you to set an event goal and display it on your spreadsheet as a constant reminder and motivation. Meanwhile, the whole template itself contains the Event Overview, Revenue and Expenses, and Lists in separate worksheet tabs.
The Event Overview shows your event's Total Income, Total Expenditures, Actual Income and Actual Expenditures. Meanwhile, you can keep track of how much progress you are making with the Amount to Goal tracker. You can also see the Amounts Collected by Name of contributors, and Amount Expensed by Name to see the funds coming in and out of your fundraiser.
Related: Check our more Free Office Templates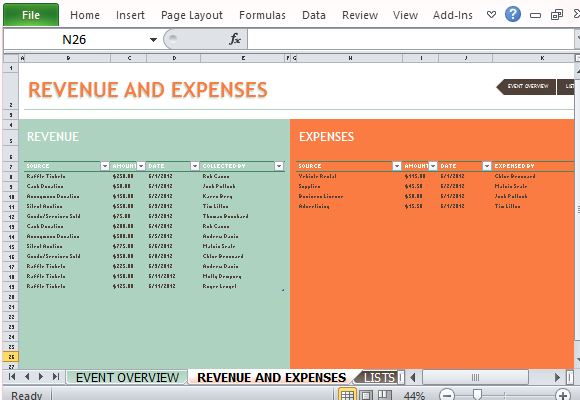 The Revenue and Expenses tab shows a list of the Revenue and Expenses. The Revenue and Expenses are color-coded, as you can notice throughout the template. In this particular tab, the Revenue is tracked according to Source, Amount, Date and Collector. The Expenses are listed according to Source, Amount, Date and Expensed by, or the person who spent the funds.
The last worksheet tab is the Lists. This contains your Income Items, Expenditure Items, and Names, that automatically populate in the other tabs as you complete the budget maker. Of course, all these can be customized for your own staff, contributors, revenue and expenses.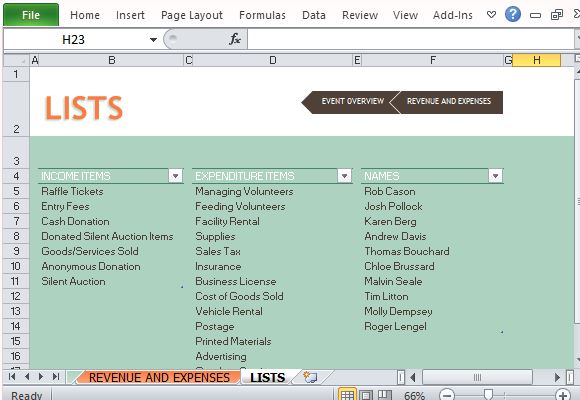 To organize your important data for a fundraiser, download this Free Excel Template from the link given below.