A Work Order, sometimes called a Job Order or a Job Ticket, may be used within an organization, or may be received by company from a customer or client. Used for either products or services (service order or service ticket), a work order shows that work is about to begin. It is important to have a well-written work order covering all aspects and expectations of the job. The Free Work Order Template for Microsoft Word 2013 is a convenient and detailed template you can use for creating work orders.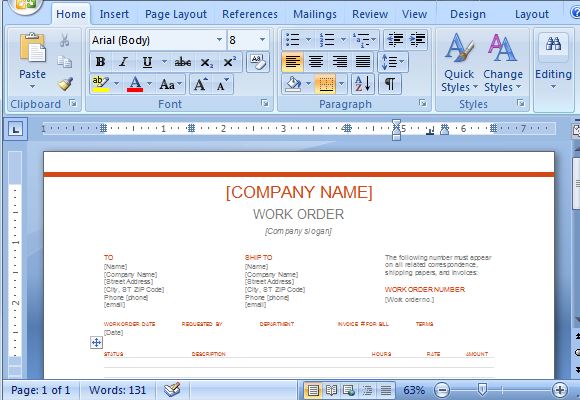 Create Formal and Detailed Word Orders
With the Free Work Order Template, you can create a work or job order with your own company logo, company name, address, and tax information written on it.
All you have to do is to follow the guide in the template so you can furnish yourself a standard work order that you and your whole company can use. The Word template contains all the relevant fields that covers all the basic information for starting and executing the job. Such information are Work Order Date, Requested By, Department, Invoice # of Bill, Terms, Status, Description, Hours, Rate, Amount, Total, and more. These details can be typed using the computer. You can also customize the template and print forms to be filled out by hand.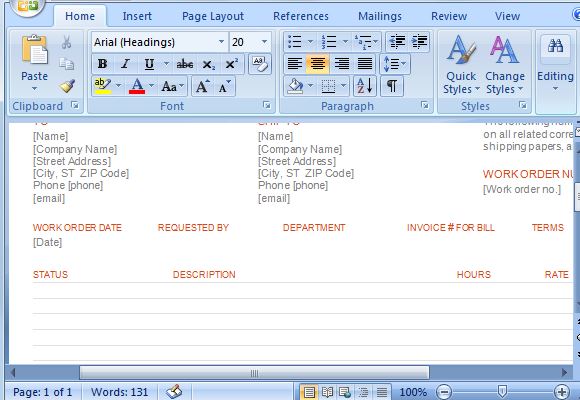 The Importance of Detailed Business Documents and Forms
Being highly detailed and documenting work expectations can help both parties avoid any problems that may even lead to legal battles. Creating a well-detailed work order also ensures that you and your client will agree on the coverage of the work and that there are no loopholes that can be exploited by any party in the process. This ensures transparency and competence for the work involved.
With this Work Order Template, you can ensure that all the details, work status, rates, amounts, and work hours are set, authorized, and agreed upon by both parties to ensure good business practices and smooth collaboration between client and supplier, or between both companies.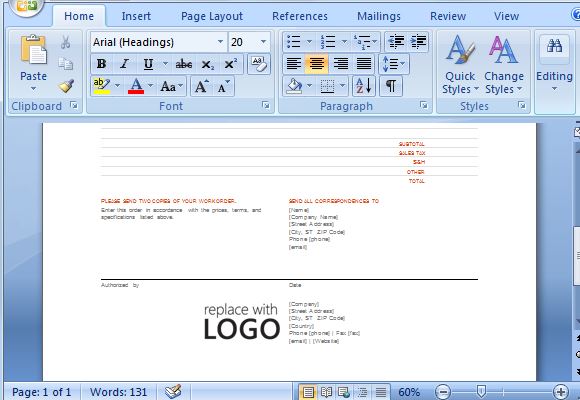 To download this and other free Office templates, see the link given below.
Go to Download Free Work Order Template for Microsoft Word 2013