Life in the corporate world would entail meetings, reports, presentations, forms, letters, and emails. The important thing is for your every output to look professional, cohesive, clean, and organized. It should also be straightforward while being attractive enough to keep your audience interested.
Below are some of the Free Work and Office PowerPoint Templates that you can use for a variety of presentations, whether for training, reports, sales pitches, etc.

Give a Good Impression
If you are involved in human resources, especially in recruiting and training new hires, you would need to orient them about your company. You would also need to tell them about what they can expect from the job, as well as what your company expects from them as its employees. For this, you would need a well-organized presentation template such as the Employee Orientation PowerPoint Template that is specially designed for orienting new hires.
This template features a professional layout and premade outline of the essential things to be tackled during an orientation. The slideshow includes the company history and vision, organizational structure, company policies, employee benefits, performance metrics and reviews, required paperwork, other information, and summary.
In addition to the content features, the template is also aesthetically designed to look professional, unified, and clean. You can further customize the template by adding your company logo or changing the theme to incorporate your brand identity.
Go to Download Free Employee Orientation PowerPoint Template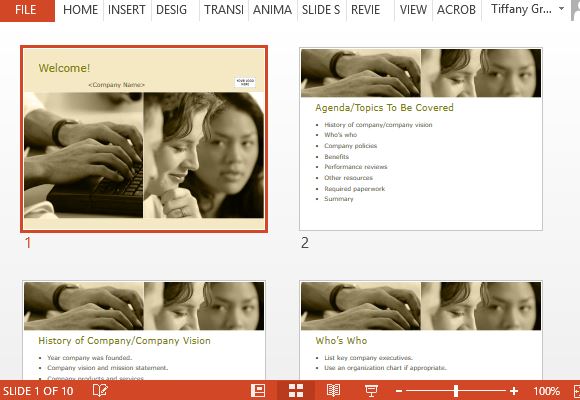 Be a Corporate Hotshot
Nothing makes your clients, bosses, subordinates, or colleagues more impressed than by delivering a winning pitch. In order to do this, you must, of course create a professional, compelling, and convincing presentation, which you can do with the Free City PowerPoint Template.
This Free City PowerPoint Template features a streamlined design that can easily be seen with the sleek, shiny, and beautiful building in the cover slide. This metal and glass-lined building perfectly matches the gray theme with bright yellow accents that serve as pops of color throughout the slideshow. The inside slides have white background with the gray and yellow border.
This template can be used for reports, pitches, plans, and many more.
Go to Download Free City PowerPoint Template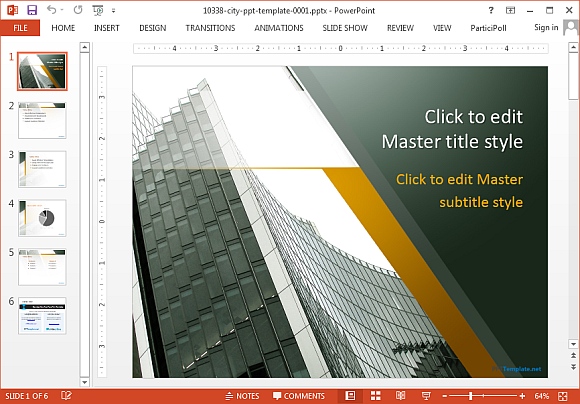 High Contrast and Maximum Appeal
For a very eye-catching and impressive template, this Business Contrast PowerPoint Online Template is perfect. It features a white background and seemingly abstract-looking lines that are, in fact, bottom-up view of a metal and glass high rise. This template's smart play on shadows, lights, and lines contribute to a modern and stylish presentation that is sure to grab your audience's attention.
The template features the same abstract-looking, corporate design in the inside slides, with texts and objects in teal, pink, and other bright colors to make them stand out. You can, of course, change this color scheme to match your own branding. You can also add more charts, graphs, and other graphics to make the presentation your own.
Go to Business Contrast PowerPoint Online Template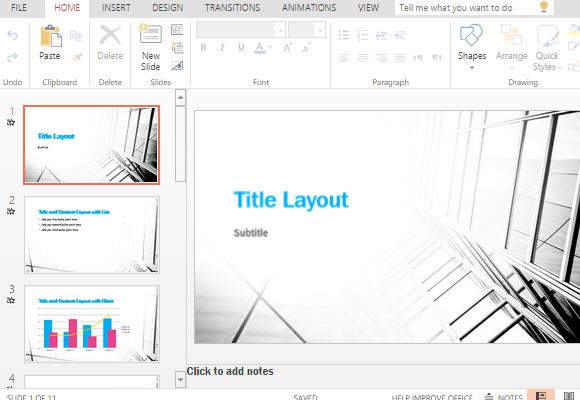 Nothing Sketchy with Business
For those involved in the more creative side of a business, such as engineering, design, architecture, and other similar fields, presentations are sometimes also necessary. For this purpose, there is the Business Office Sketch Presentation Template that can add a creative and interesting touch to any presentation.
This template features a light green background with dark brown lines that form a sketch of the city, making this template great for many types of corporate-themed presentation. This template also contains many sample slides that already have premade layouts for putting charts, tables, graphs, SmartArt Graphics and other content. Another great feature of this template is that it is in PowerPoint Online, making it available for access and updates anytime and anywhere using any mobile device.
Go to Business Office Sketch Presentation Template