We have previously reviewed many Free Microsoft Office Templates that are suitable for a wide range of topics. Here in this article, we will discuss a technology themed template that is appropriate for many types of presentation topics, considering that we are very dependent on technology and digital gadgets today. This widescreen template is visually captivating, with enough space to display your theme and content.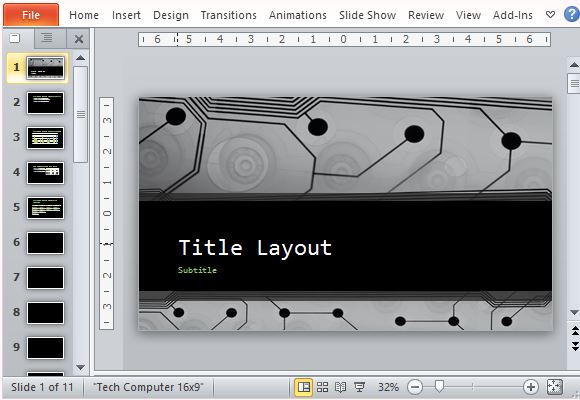 Impressive Technology-Themed Features
This Free Widescreen Technology PowerPoint Template features a technology theme from its background to its design and font style. In its cover slide, it contains a magnified image of a gray and black circuit board in the background. This slide contains the title of your presentation and as a title slide, it stands out from the rest of the other slides. The cover slide contains a wide black band overlay going across it, which makes it possible to write text in clear white futuristic font.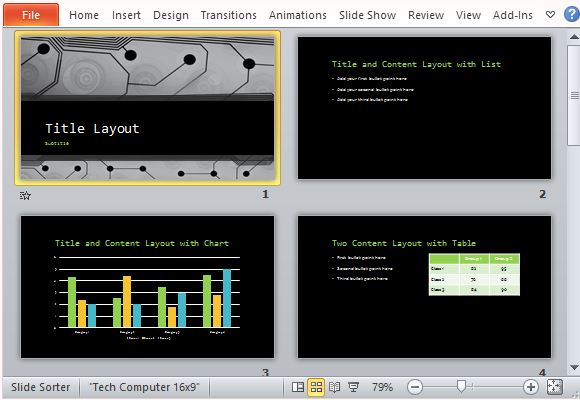 This template contains 10 more inside slides that contain the same theme and design as the title slide. These slides contain placeholders, as well as sample lists, table, graphs, and SmartArt. These samples stand out against a black background. Their colors are coordinated to keep with the technology theme.
Suitable for Many Presentation Topics
This template's design features a circuit board and the futuristic or digital theme, which makes this template suitable for presentations involving computers, electronics, technology, gadgets, telecommunications, computer hardware, circuitry, and many more.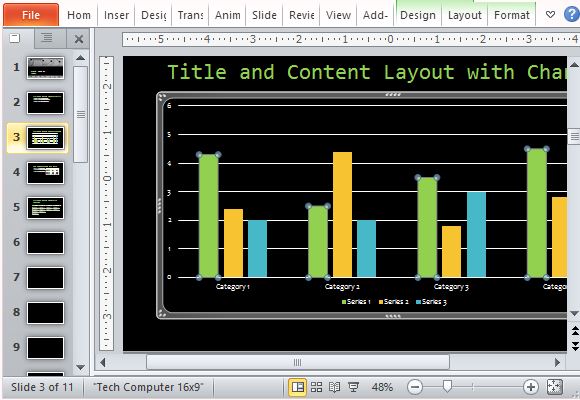 This template can also be customized to suit other presentation topics, such as computer tutorials, mobile apps and games, computer sales, business, and manufacturing, to name a few.
Go to Download Free Widescreen Technology PowerPoint Template