Many people try to get in shape and lose weight but then they end up failing. This is because they do not keep track of their progress. Fitness trainers, health experts, dieticians and many other specialists recommend that tracking your weight loss progress is one of the greatest motivations.
The Free Weight Loss Tracker is a great tool and "weight-loss buddy" that you can use to see how much you are progressing through your diet and exercise regimen. This free template is set in Excel and works best in the 2013 version, with backward compatibility with earlier releases.
You can use this Free Weight Loss Tracker to input your weight data everyday and see how much weight you are losing–or gaining–through the graph within the template. The data is automatically translated into a visual representation so that you can easily see how good you're going just at a glance. You can see if you are going strong on your weight loss so you can continue what you are doing and even push yourself even more. You can also easily spot if you are lagging behind on your weight loss and therefore do something about it by keeping a stricter diet or exercising more.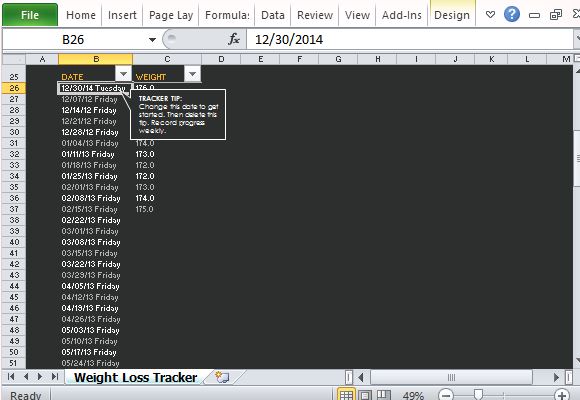 This template is a worksheet comprised of two parts: a table where you type in your information, and a graph that displays your weight through time. The table contains two columns for Date and Weight. You can change the date by typing the start of your weight loss program. Then drag the cell downwards to automatically update the rest of the column. The Weight column, on the other hand, works simply by typing in your weight, in pounds, corresponding the dates you have typed in the other column.
Your weight through the days are then reflected in a graph that is automatically populated in the upper part of the worksheet template.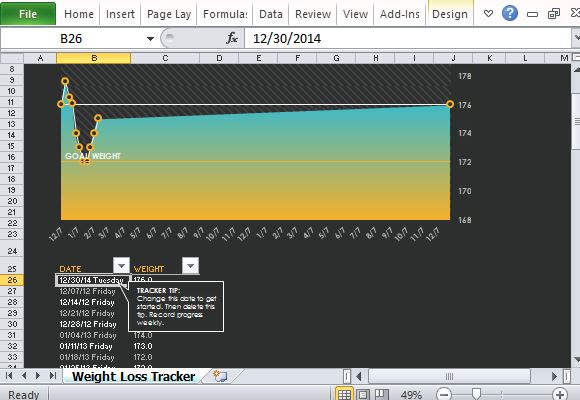 All this information conveniently fits one worksheet and you can even embed these data in a PowerPoint presentation if you want to inspire other people with your weight loss story.