Serenity, relaxation, peace, calm, and natural beauty. These are just some of the most common feelings and imagery that you evoke when you use waves on your PowerPoint presentations. So if you are planning to create a serious, environmental, nature themed or vacation related presentation, then you may want to make it at ease with the sight of blue waves in your PowerPoint slides.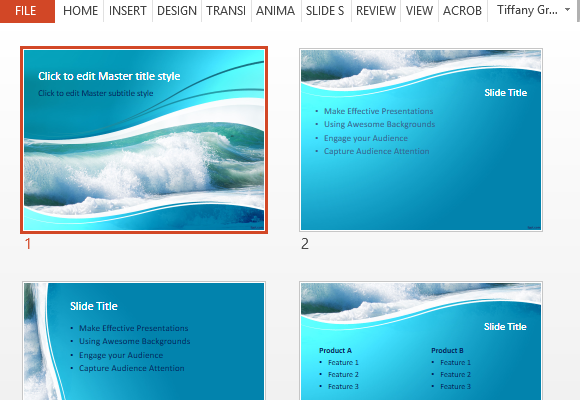 Below are Free Waves Slide Designs for PowerPoint that you can use for many presentation topics and needs. These are great go-to templates because they are general-purpose and easily customizable so you will be sure that all the presentations you make using these templates look well-organized and professional.
Simple is Beautiful Even with Waves
If you want the look of undulating waves but don't want too much detail distracting your audience from your content, then this Waveform Design Template for PowerPoint is your perfect choice.
This template features a crisp white background with a light blue gradient overlay that has a wave cutout. The imagery of waves is furthered by subtle undulating lines on the bottom of the slides. This design conveys movement and dynamism even in its simplicity, which is perfect so that your audience can concentrate more on your content.
You can also customize this template by rearranging the premade slides and by formatting the background.
Go to Waveform Design Template for PowerPoint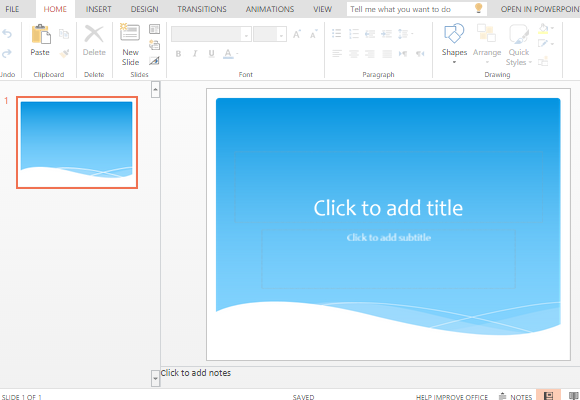 Relaxing Blue Waves in Every Slide
To add some fun and some bright colors to your presentation, you can use this Blue Waves PowerPoint Template that features shades of blue as illustrated waves to accent each solid blue background. The result is a hip, fun, and modern presentation template that is perfect for many topics for school, business, or personal use.
The template can be used for business such as in the hospitality and tourism industries. It can be used for school for field trip and science presentations. For personal use, it can be used for vacation planning.
To start creating your own blue wave presentation, just add the slides you need or edit the premade slides that are already in the template when you open it in PowerPoint Online.
Go to Blue Waves PowerPoint Template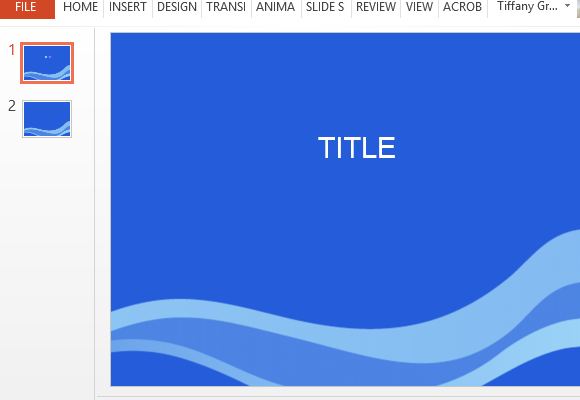 Smoky Blue Waves Spell Sophistication
For a more serious and sophisticatedly modern look, you can use this Smoky Waves PowerPoint Template. This general-purpose template has a dark blue background offset by subtle smoke-like effects that are undulating like waves. This gives your presentation an air of sophistication and mystery, drawing your customer's attention deeper into your presentation.
The sample slides that come with this template have different layouts, allowing you to present your data in different ways while still maintaining a cohesive look throughout. You can insert tables, charts, graphs, illustrations, and even create infographics with this template just like all the other templates featured in this post.
Go to Smoky Waves PowerPoint Template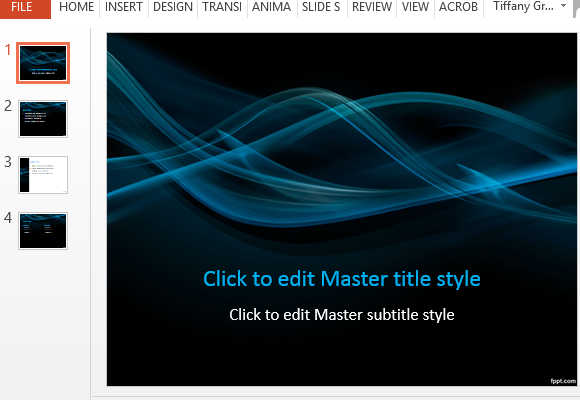 Ocean Scene Presentation
You can definitely bring your audience to the ocean with this Ocean Waves Template for PowerPoint. This presentation template is free and general purpose, and is perfect for evoking calm, serenity, and appreciation for nature's beauty. This template can be used by people who are involved in tourism, hospitality, and surfing.
It features a realistic image of crashing waves that are further emphasized by undulating lines that form waves over a background that has various shades of blue.
Go to Ocean Waves Template for PowerPoint