Virtual reality is taking over our screens, as VR technology becomes more common. VR is not only used for playing games but it seems that anything from vocational training to daily activities are being integrated with VR. Be it Microsoft's HoloLens, Samsung Gear VR or Google's Cardboard. The Free VR PowerPoint Template captures the world of VR to enable people to discuss everything virtual.
Discuss VR Technology
The template has a simple layout depicting a woman wearing a VR headset. There are sample slides to enable presenters to create customized slides regarding VR technology. You can add additional images, videos, and text to design your slides according to need.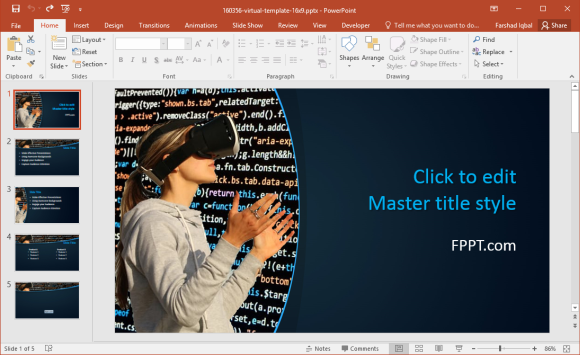 Get into the Nitty Gritty of Virtual Reality
What's interesting about this template is that the background design also includes some code, which can help you elaborate upon the nitty gritty details of VR technology by using the code as a symbolic example of what goes behind the software of VR headsets.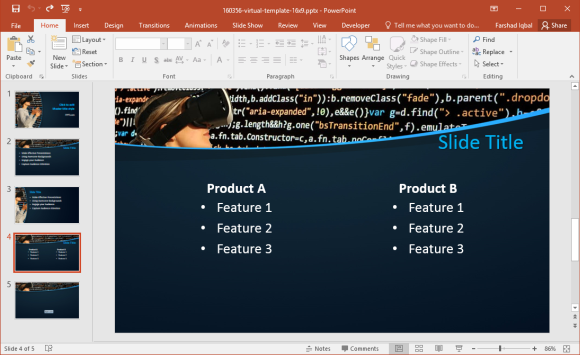 Create Entire Presentation or Specific Slides
The five of the default sample slides give layouts for a title, comparison, bullet slide and one you can use to conclude your presentation; such as with a thank you note. You can also create your own layouts or simply use the VR slides as a part of a larger presentation by picking them only for specific slides in your presentation. For example, you might be making a presentation on different types of technology and use the slides in this template only for the VR section of your presentation. Of course, you can also add new slides to create an entire presentation from this VR themed presentation template.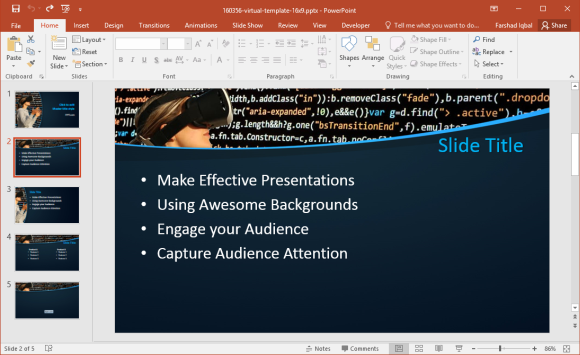 So, dive into the world of virtual reality and discuss everything VR using this simple Free VR PowerPoint template.