Time is money. In business, education, and in personal life, time is very important and people are very careful when it comes to making the most of it. At work, the time you put in is important for the productivity of your company. The minutes you clock in affect your team, your department, and your company as a whole. Therefore, it is important to be efficient with your time and follow your schedule and keep your work hours.
To help you and your organization or company with keeping you and your employees' time, you can use this Free Time Sheet Template for Excel Online. This time sheet template for employees will allow you to maximize your workforce as well as keep everyone on schedule so your company will operate smoothly.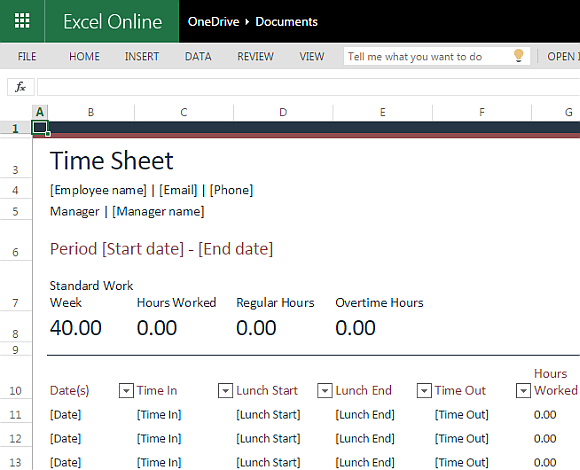 Keep a Close Eye on Your Employees
With this professional time sheet, you can also keep track of the hours that your employees have clocked in for management and payroll purposes. This template contains a formula and format that allows you to create for each of your employees within a given period.
The template contains a header with the Document Title, Employee Name, Email Address, Phone, Manager Name, and Time Sheet Period. Under this is a summary, which contains the given standard work sheet for the employee, which is typically 40 hours. Then there are columns for Hours Worked, Normal Hours, as well as Overtime Hours.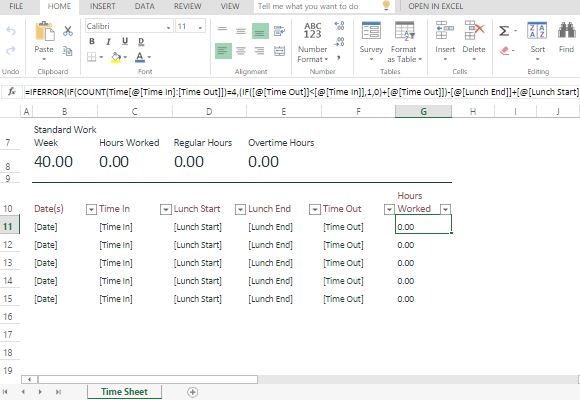 Under the header, you can record the Dates, Time In, Lunch Start, Lunch End, Time Out, and Total Hours Worked for that Day. You can even customize it to include absenteesim and tardiness. The cells each have their own formatting so that the values such as time will be automatically calculated against the information you have typed in.
Ensure Smooth Workflow Even On-The-Go
As an Excel Online Template, you can also enjoy mobility and added convenience. You can log onto your Microsoft account on any browser, using any mobile device or computer, and easily view and update the time sheets of your employees. This cloud-based feature is also great for travelling employees and their managers, so that everyone will be on the same page when it comes to their employees' or subordinates' attendance.
Go to Free Time Sheet Template for Excel Online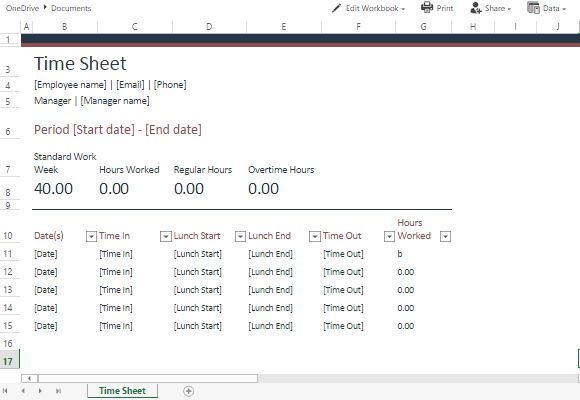 Save time by reusing free timesheet templates
As a small business owner, you would need to invest hours of your valuable work tracking employee hours or filling in a sheet of paper the time worked by each employee. Hopefully, you can rely on pre-designed timesheet templates to semi-automate this work. There are dozens of timesheet templates & time tracking tools available online.
In most of these cases, filling the timesheet template can help you to automate the work. Fill the hours worked by each employee, set the hourly rate and then the spreadsheet will do the work for you.
In Free Timesheet Templates for Your Business (and Why You Need Them) there is a collection of some high productive timesheet templates compatible with Google Sheets, Excel, Word or even printable as a PDF.