Today, we see a lot of gadgets and devices coming out one after the other to make life easier. If you are in the mobile and technology industry involved in creating mobile phones, mobile apps, games, or are into software development and similar endeavors, then you may find these templates perfect for you.
We have gathered Free Technology Templates for PowerPoint, which you can use to create captivating state-of-the-art presentations for your state-of-the-art products and services.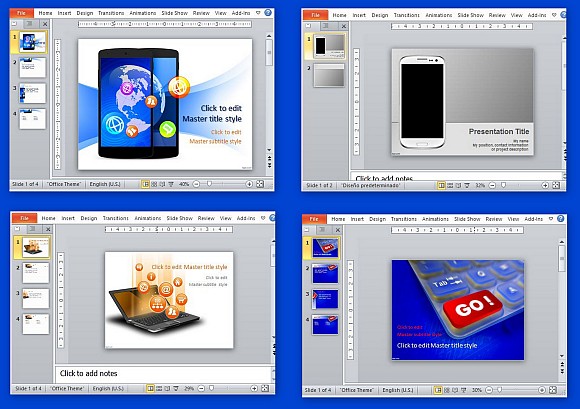 Be a Mobile Master
If you are into mobile apps and games, or in mobile communications, the Free Mobile PowerPoint Template is a very beautiful template that hits your theme spot on. This free template for PowerPoint features an image of a touchscreen mobile phone with a wallpaper of the globe. Meanwhile, circles of various colors with various icons can be seen as if they are floating inside and out of the mobile, much like how mobile apps are used nowadays.
This design and theme is prevalent throughout the four slide templates, giving your presentation cohesion without being too boring since different angles and parts of the phone are shown in each slide.
Go to Download Free Mobile PowerPoint Template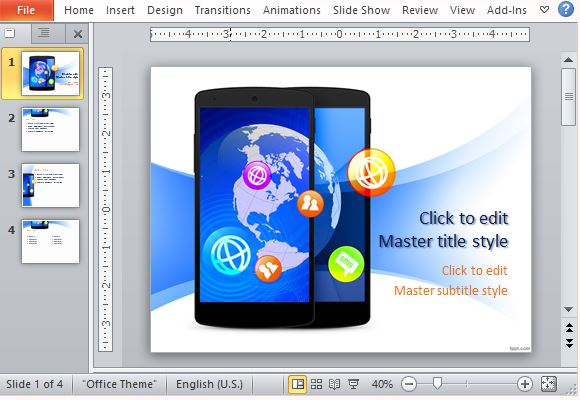 Have a Go With This Theme
For motivational or forward-thinking, presentations that have a futuristic theme, you can use this eye-catching Free Go Keyboard PowerPoint Template with the word "go" on the keyboard. This image is quite interesting because of the unexpected "go" key on the keyboard, which is in red and stands out on the blue background.
This template continues this motivational and positive theme throughout its blue and red-themed sample slides. The keyboard image borders each slide in different ways to add variety to the presentations and you can also add more New Slides and choose the layouts that you need.
Go to Download Free Go Keyboard PowerPoint Template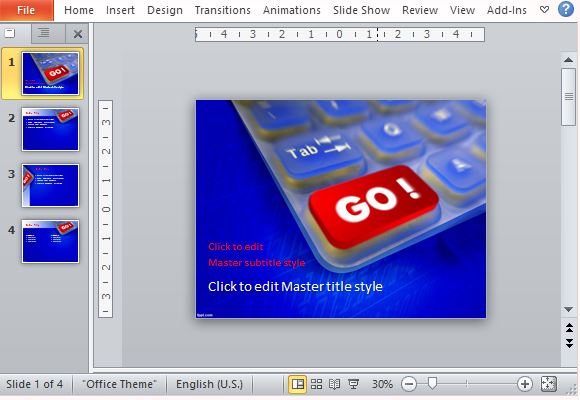 Stay Connected to the Net and Your Audience
Today, many people are highly dependent on the internet for productivity, socialization, and lifestyle. You can channel the prevalence of the internet into the fabric of our daily life using this Internet Template for PowerPoint. This template shows a laptop computer being filled with all types of information.
This template contains four sample slides that each has a different layout to allow you variety in presenting your information. You can also choose from among the many slide layout options when you click on 'New Slide' in the 'Home' menu.
Go to Download Internet Template for PowerPoint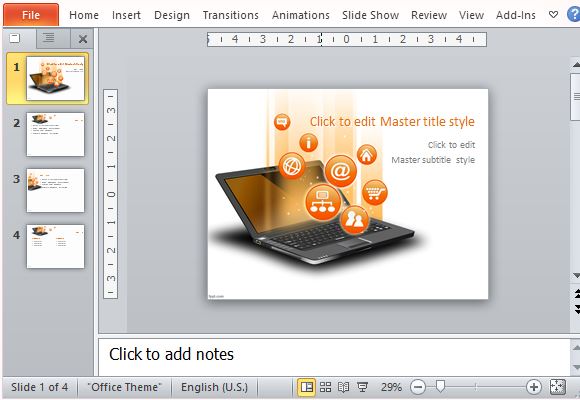 Mobile Apps Technology
Aside from mobile devices, today's world is filled with apps of every kind, making our world more fun, convenient and entertaining. And it's not just for techies or the tech savvy anymore but for everyone, from kids to even the elderly.
Thus, you will have the option to reach a wider audience with this Mobile App Template for PowerPoint. This has a minimalist yet highly futuristic look with a white and gray color scheme that is both elegant and functional.
Go to Download Mobile App Template for PowerPoint