Nothing else can best represent the warmth and vibrancy of life than the sun. The sun gives light and energy to everything under it such as the trees, plants, flowers, wildlife, and even humans. Without the sun, life would be dark and drab. So if you want to spruce up and give life to your own presentations, you may want to consider adding an image of the sun to it as well.
The Free Sun PowerPoint Templates are beautiful and bright templates that you can use for free for all your presentation needs, whether at home, in school, or at work.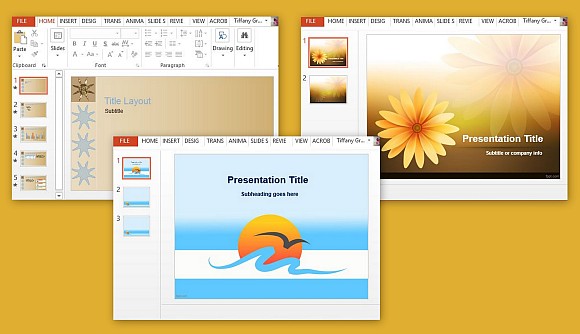 Sun, Sea and Sand
For a touch of the summer sun, you can use this Sun and Sea PowerPoint Template that takes your audience back to the beach and the serenity that goes with it. This Sun and Sea inspired PowerPoint template features a gradient blue background that represents the sea and the sky, while a bright orange sun dominates in the middle of the slide, to be accented by an image of a bird flying over the waves.
This template is perfect for travel, tourism, hospitality, and even personal or business vacation presentations. You can also use this for all other presentations, such as annual reports, goal setting, brainstorming, and even sales reports.
Go to Download Sun and Sea PowerPoint Template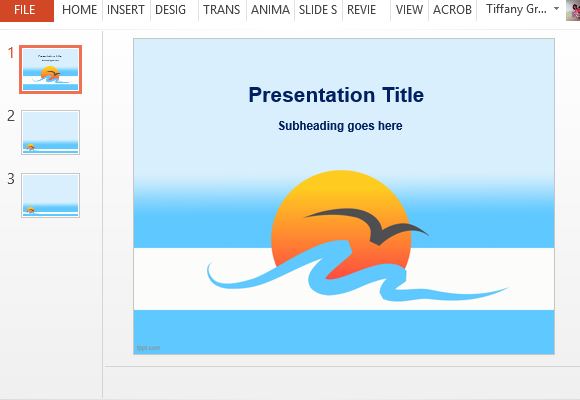 Bright and Sunny Flowers
Adorn your presentation with something as bright as the sun with a daisy flower PowerPoint presentation with a yellow and brown theme, which also references the rays of the sun.
This template is also perfect for all your presentation needs, and is great for PowerPoint 2010 and PowerPoint 2013. A nature-themed template, this Bright Daisy Themed PowerPoint Template is great for summer-inspired presentations and even for summer event slideshows such as weddings, birthdays, or anniversaries. It features a realistic image of a daisy overlaying the background which also has a faint image of a daisy in a white to yellow to brown gradient. A brown ribbon overlay also goes across the bottom part of the slide for your text to be clearly seen.
Go to Download Bright Daisy Themed PowerPoint Template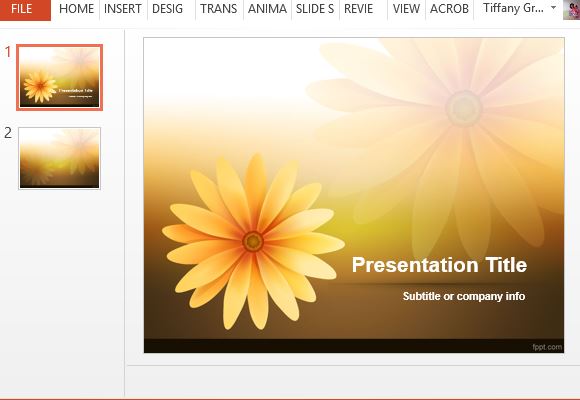 Be All Light and Sunny
This next template features an artistic touch with a sun theme. It has a bronze sun sculpture that serves as an accent over a gradient tan background. For added interest, there is also a gray outline of the sun sculpture.
This template is simply yet artsy, giving you plenty of options to customize it, such as adding your logo and slogan. You can also add tables, charts, and other visuals, like in the rest of the other slides, so you can create an interesting presentation every time.
You can even customize this template to suit your branding and preference, or use this template to showcase your vacation photos or summer wedding pictures.
Go to Download Sun Themed PowerPoint Template