The Free Sticky Notes PowerPoint Template is an editable slide deck which can be used for presenting your slides in style. This PowerPoint presentation template provides colorful sticky notes, where you can add your custom message to fashion your slides.
Editable Sticky Notes for PowerPoint
With four sample slides, the template gives editable sticky note like placeholders which you can edit and recolor to create custom slides. There is space for adding a title, subtitle and for adding main body content. You can also add charts and tables to your slides according to need.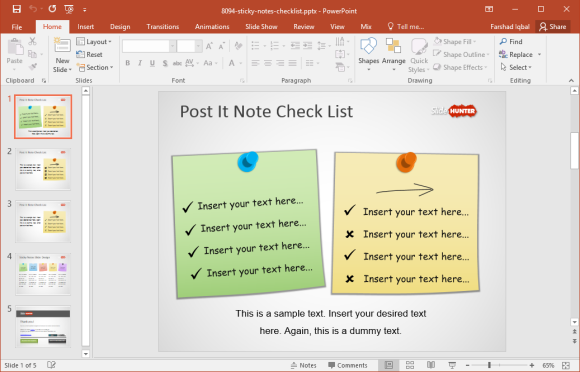 Checklists on Sticky Note Illustrations
The sticky note illustrations also come with checklists. You can make use of these sample lists for designing your own. This way, you can provide relevant information with a tick and cross sign, according to the relevance of the item in the checklist. Since these sticky notes have been designed using PowerPoint shapes, you can easily edit and redesign them in PowerPoint.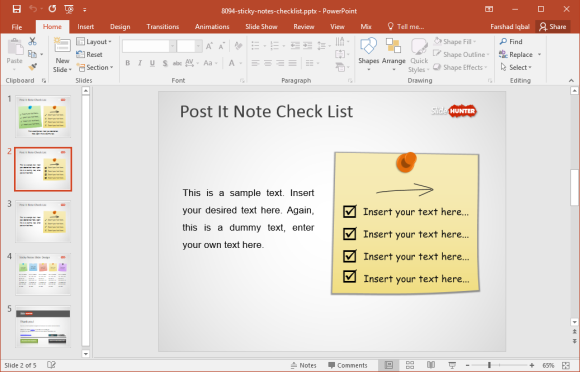 Sample Sticky Notes for Making New Slides
The fourth slide provides five sample sticky notes in different colors and designs. You can copy and resize these sticky notes to design new slides. To recolor an existing sticky note, you can use the Drawing Tools in PowerPoint.
These sticky notes can be easily resized by using drag and drop. This can allow you to design your own custom versions of the sample slides and for elaborating upon your topic with more text-heavy slides.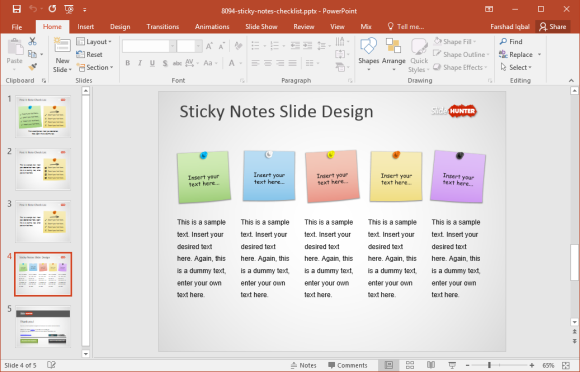 You can download this free sticky note themed presentation template for PowerPoint via SlideHunter.