The Free Simple Inventory Management Template for Excel is a handy template that homeowners can use to keep track of their valuable belongings at home, as well as make insurance claims easier. This simple home inventory management template is helpful in creating an inventory of your home appliances, gadgets, expensive ornaments, furniture and many other items in your house.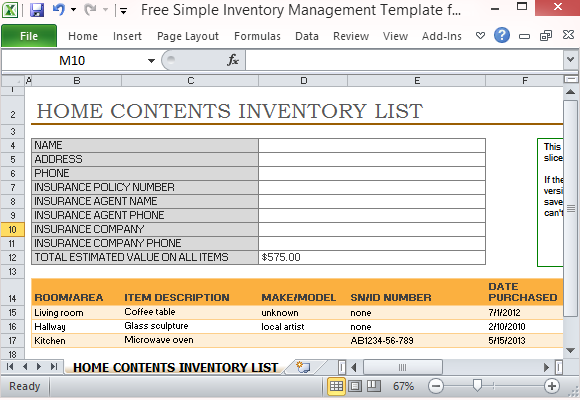 This template is available at Office.com and like the free templates available there it comes with a comprehensive set of features to help you make your calculations easy, such as making a comprehensive inventory control sheet. This template can be used for keeping tabs of items in your living room, kitchen, dining room, bedroom, bathroom, garage, and outdoor area. You can organize your property according to room with this simple inventory management template.
The inventory management template contains a number of columns to help you organize your home's contents. The columns include, Room/Area, Item Description, Make/Model, SN/ID Number, Date Purchased, Where Purchased, Purchase Price, Current Value, Photo and Notes. This information does not only help organize your belongings but also help you in knowing the value of your items and how much they are depreciating, or if they are broken and need repair.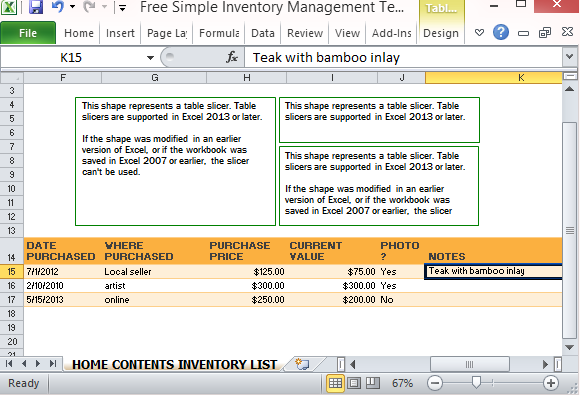 Another feature of this simple home inventory management template is that it shows your contact information as well as all pertinent data when it comes to your home insurance. These are important in your insurance claims in case of any unfortunate and unforeseen incidents like fire, theft, breaking in, or disaster. This template automatically computes for your Total Estimated Value on All Items so you can make a print out of your home inventory to present to your insurance agent.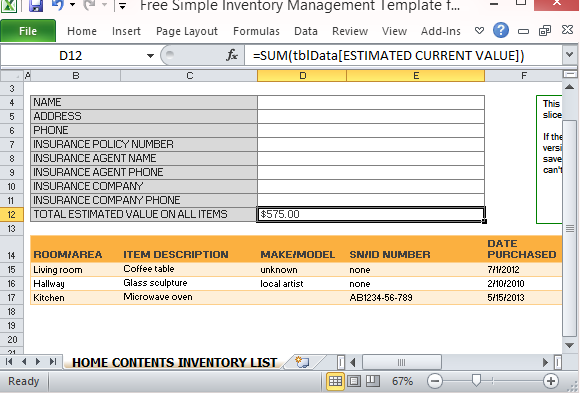 This Simple Inventory Management Template can also be used even if you don't own your home, if you are renting an apartment, condominium, or if you share your room with roommates. You can also use this template as a generic expense report form or for making inventory management forms. This free Excel template is compatible with Excel 2013 and earlier versions.
Go to Download Free Simple Inventory Management Template for Excel