Tranquility, serenity, and natural beauty; these are evoked by visions of the beach. Bringing the beach into your presentation can allow you to extend the fun of the sand and see to your audience. Beach-themed presentations are perfect for topics on vacations, travel, tourism, seashore cleanup drives, marine conservation, etc.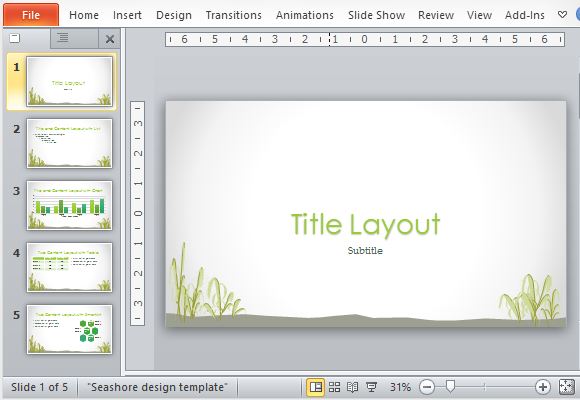 The Free Seashore PowerPoint Template is a template that is designed especially for beach, vacation and other similar presentation topics. This template is also great for presentations on creating awareness and for raising proceeds for marine conservation, environment and wildlife protection, or marine reserve rehabilitation.
Whether you are creating a presentation for business, personal or non-profit use, the features of this Free Seashore PowerPoint Template is easy to customize. The template contains five slides that each have their own unique layout while retaining the seashore design.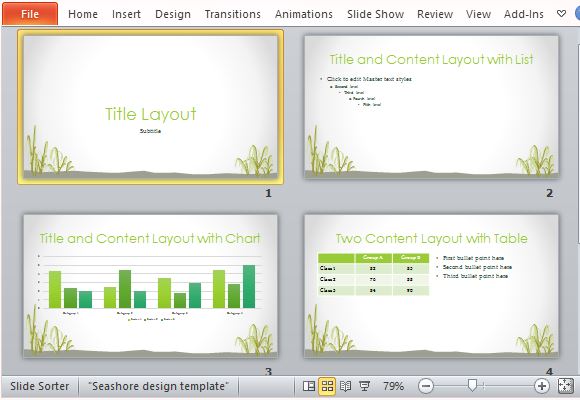 The design features a plain, light grey background with a dark vignette on the edges of each slide. This effectively frames your content. The background, meanwhile, is light and neutral enough to match the green shades that serve as an apt theme for the presentation. On the bottom of each slide are beach plants and a gray outline of the sand, adding interest to the beachy theme.
The five slides start with a cover slide where you can type your title on the placeholder, as well as add a subtitle or description below. The rest of the succeeding slides contain different layouts that allow you to present your data in the form or lists, graphs, tables, SmartArt diagrams, and more. To give you more layout options, you can add new slides and choose from the other preset layouts that also come with the template.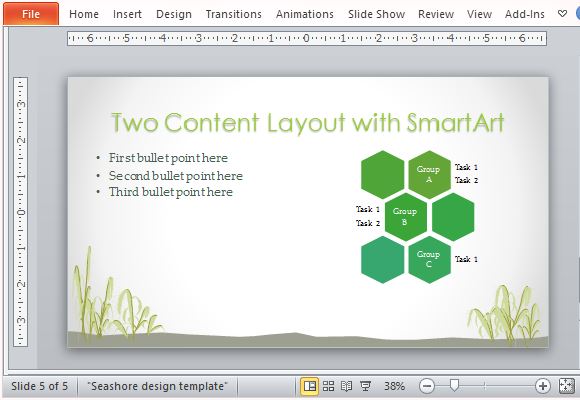 If you want to change the color scheme of the presentation to suit your preferences or company colors, you can still do so by going to the Design tab on the Ribbon Menu and choosing schemes from a wide array of samples.