Sales presentations have to be powerful and convincing. They have to evoke emotions and stir ideas in order to attract potential customers and achieve business goals. Therefore, if you have to present your sales presentation to potential customers and investors, it has to be impressive and compelling.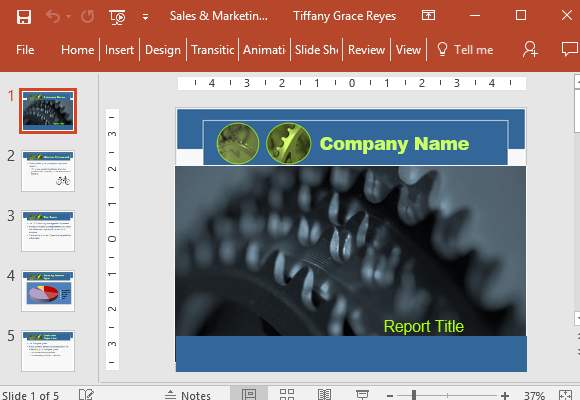 The Free Sales Presentation Template for PowerPoint is a great sales presentation template that can help you create professional-looking, powerful presentations that will engage any audience and make them buy whatever it is you're selling. This template is especially designed for sales and marketing and can be used by any industry. It can also be tailored for any audience, whether they are your leads, potential customers, clients, colleagues, and other people.
This sales template has 5 slides that have specific purposes to make your presentation come alive and be highly evocative. It is carefully designed to allow you to tackle relevant information about your company and its sales and marketing activities.
The presentation template starts with a title slide that has a close-up image of gears, with a monochromatic blue hue. This perfectly blends with the blue theme that is set off by green and white accents, as you can see in the fonts.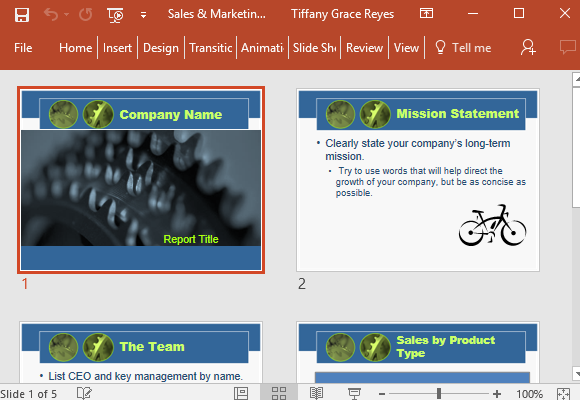 The following slide features organized content with guides to help you create your very own customized sales presentation. It features headings such as; Mission Statement, The Team or Organization, Sales by Product Type, and Goals and Objectives.
You can also add more slides by duplicating the already available slides in the template and changing the headers with your own titles. Make sure you organize the slides accordingly so that your slideshow will have a smooth and logical flow.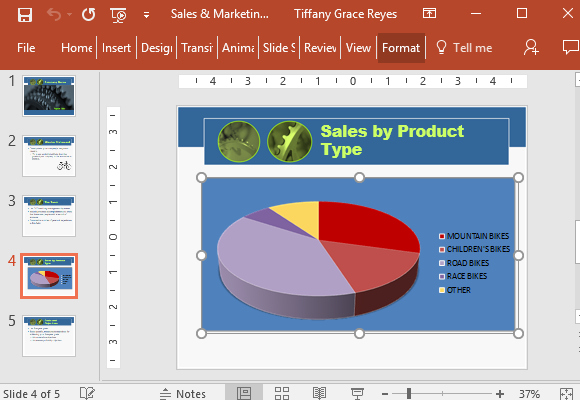 It is also best to make the most of the charts and diagrams available in the template at your disposal. This will allow you to present your data visually for easier understanding and recall.
Go to Download Free Sales Presentation Template for PowerPoint