Every community or organization has a bulletin board where they can post notices, trivia, facts, and other information. Bulletin boards are designed to catch people's attention so that they can take time to look at what information is posted. Therefore, these boards are helpful and convenient to create one place where people can share ideas and get the information they need, instead of asking people around or trying to find information and answers by themselves.
To channel the look and community feel of a bulletin board, you can use these handy Free Pushpin PowerPoint Templates. These free Office templates can help catch the attention of your audience and draw them straight to your presented subject matter.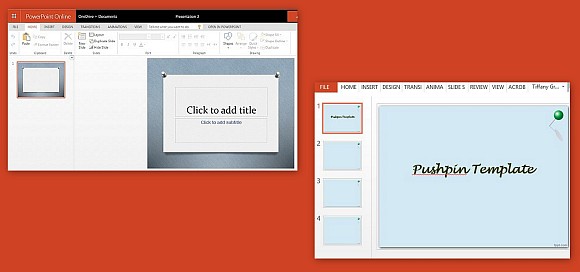 Pushing Sophistication and Style
Just because you have a bulletin board theme on your template doesn't mean you can't be stylish and sophisticated. The Silver Pushpin Template for PowerPoint Online is designed with the corporate, elegant, and sleek-minded in mind.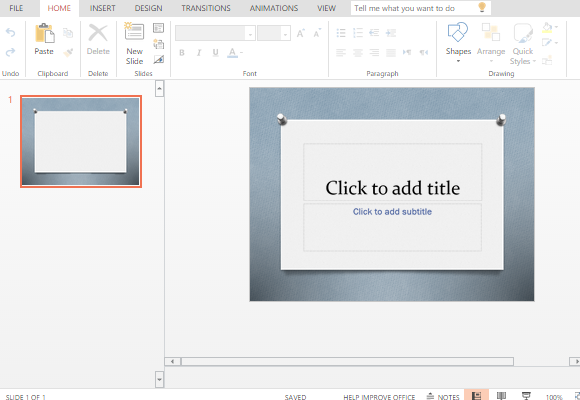 This free template features a gradient gray background that looks like silver with a shiny, 3D-like finish. Additionally, the rectangular paper overlay looks realistically pinned on the background with two silver pins. The overall look is clean and professional.
You can complete your own Silver Pushpin Template by adding more slides to the title slide that is already prepared as you open the template. Just click on New Slide on the Home Menu to view a wide array of layout options that you can use for presenting your content in different ways.
If silver is not your color, you can change the background color to any other color you want through the Design menu on the Ribbon. The effect would still be like a shiny metallic background. You can also further customize this template by changing up some design elements and adding your logo or slogan.
Go to Silver Pushpin Template for PowerPoint Online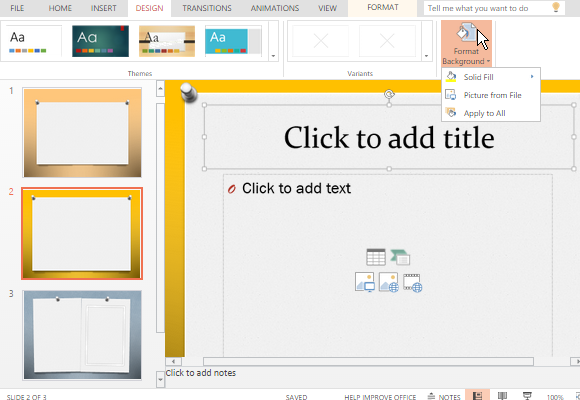 No More Pushing Papers with This Template
Now if you're stuck in your desk with no inspiration to kickstart you to create that presentation, then use this Free Pushpin PowerPoint Template. More casual than the one above, this template has a real note effect that can be seen by the powder blue notepad pinned to the white background by a single 3D green pushpin.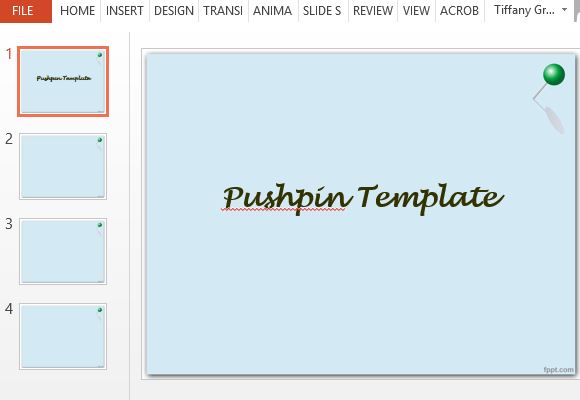 This template is perfect for many professional, academic, household, or personal template. You can use this for your proposals, meeting agenda, brainstorming sessions, and mood boards.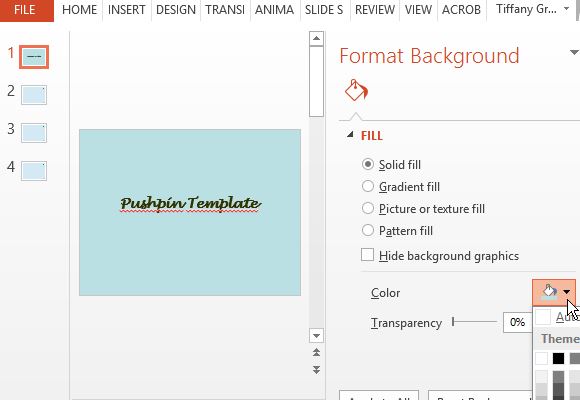 You can also customize this template by changing the font, adding your logo and slogan, creating footnotes, or even background images. Furthermore, you can format the background to any color, texture or pattern you like.