Using SmartArt helps you in creating visually informative as well as attractive reports and presentations. SmartArt Graphics and free Templates for Microsoft Office can allow you to create diagrams and other objects that will take the place of otherwise long lines of text that will drown out your point and bore your audience.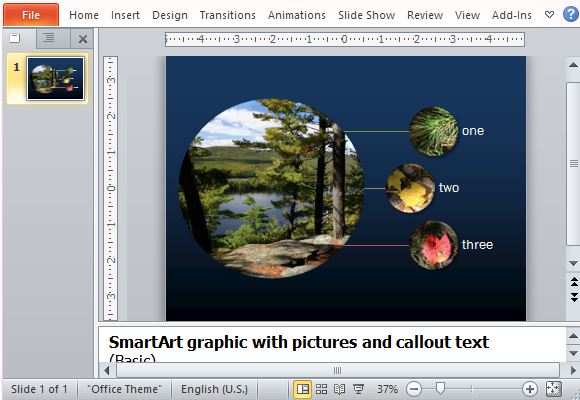 The Free PowerPoint SmartArt Picture Diagram Template below is a template that you can use to liven up any report or presentation with images. This free template is great if you want to visualize and simplify a complex process, or to represent topics or lists using pictures and shapes.
This SmartArt Picture Diagram Template contains a big sample image of a forest track overlooking a lake and beyond, the green plains. With this big image on one side is a set of smaller sample images on the other side. These smaller images are magnifications of certain parts of the bigger woodlands landscape. These smaller images are callout SmartArt objects that pick out more specific items to elaborate or emphasize. The SmartArt diagram allows you to label and describe each of these specified, magnified objects to further explain them.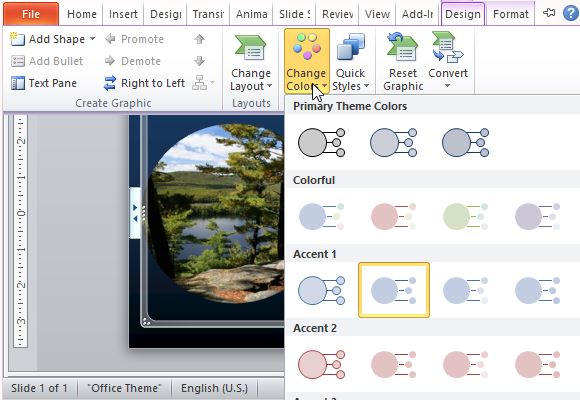 You can change this sample image to show many types of objects specific to your presentation topic, process or idea. You can change the sample image into a photo of your products and pick out one by one its specific ingredients or the processes involved in creating them. You can also use a photo of your site, store, or house and zero in on its features and materials. Alternatively, you can also use images of your garden, resort, or hotel and then show your features and amenities.
This template easily shows you how to emphasize or call out items within a picture. This way, you can juxtapose the bigger picture and its critical elements.
You can customize this template for your own photos. The slide template contains guides and instructions within the Notes pane to help you. Simply go over the Notes pane, which tells you to replace the photo with your own from your computer. The instructions also help you in reproducing the effects and graphics.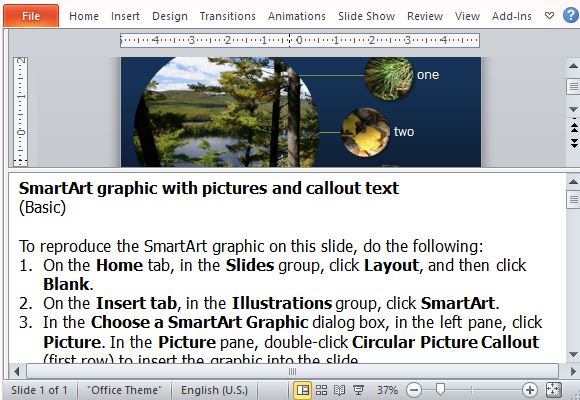 The template is professional and standard enough to suit many topics ranging from school projects in science to literature. It is also perfect for business and organizations.
Update:
This template is no longer available, you can download an alternative SmartArt Picture template from the link given below.
Go to Download Free PowerPoint SmartArt Picture Diagram Template (Alternative Template)