Getting certificates designed and printed can be a bit expensive, not to mention difficult at short notices. This is why having a certificate template can grant you the luxury of instantly creating and printing certificates at your convenience. If you are looking for a customizable PowerPoint certificate template then the Free Certificate PowerPoint Template is just what you need.
Create and Print Any Type of Certificate
As is evident from the name of this template, it is an easy to edit PowerPoint Template with a generic layout which can be suitable for creating and printing any type of certificate. What type of certificate you make and print is entirely up to you and the printing too is not limited to any specific type of printer. Whether you have an InkJet or LaserJet printer, the layout of this template is suitable for all printer types.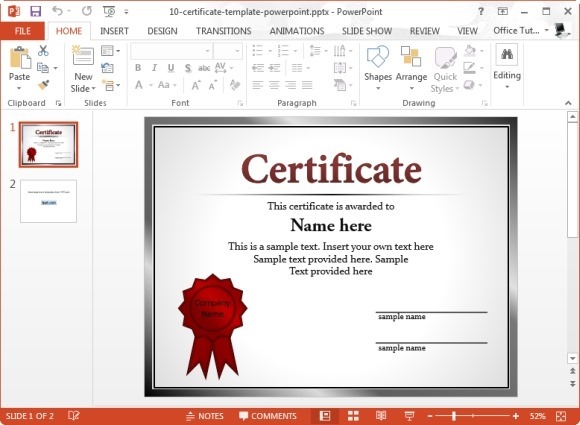 The template has different sections for adding a title, main text, signature and company logo. You can also include your own images and textboxes to further customize the template as per requirement. Furthermore, like most PowerPoint templates, this template is compatible with a wide range of PowerPoint versions, ranging from PowerPoint 2007, 2010 to the very latest PowerPoint 2013. You can download this template from the direct-link given below.