Music can speak to everyone. It goes beyond boundaries and cultures. This is why music is also called a universal language. It is used to express complex emotions, ideas, and serves as an outlet for creativity. So if you want to be creative and wish to express your love for music, look no further.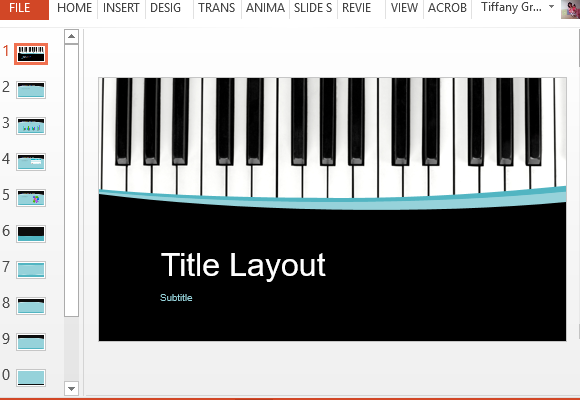 The Free Piano PowerPoint Template is a music-inspired template that conveys not only music but also elegance and sophistication in its clean layout. This template is free to download and can be used by anyone for school, office, home, or personal use. The template is also compatible with latest PowerPoint versions, with backward compatibility with earlier versions.
Inspire with Music
This template exudes sophistication and is easily eye-catching with the black and white keys dominating in the title slide as well as the inside slides. The piano keys in the title slide are on the upper half of the slide, and there is a black and blue-accented overlay on the lower half, where you can type in your Title and Subtitle.
Meanwhile, the inside slides retain the same look of the template, giving you a professional and cohesive overall impression to your whole presentation. These inside slides contain various layouts that you can readily use.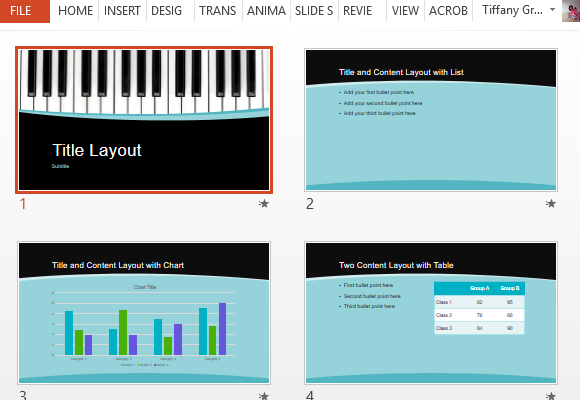 Easily Customize the Music Theme
You can also add more slides via New Slide option in PowerPoint. From here, you can see more slide layouts that will allow you to present your content in different ways. You can also insert tables, graphs, diagrams, images, and even videos to your slides. This ensures that you remain interesting to your audience as you progress through your presentation.
Furthermore, there is also a blank slide that allows you to be creative with how you want to present your content. You can create your own layout, or simply use this as a transition slide.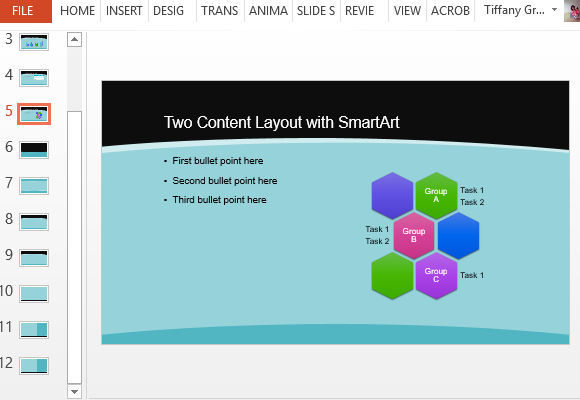 You can use this as your go-to template for all your presentation needs, especially if you are a music or a piano teacher or student. You can even add this widescreen template to your OneDrive account so you can easily access it anytime and anywhere, you only need to have an internet connection.