Most people get into a financial rut because of lack of planning and foresight. Bad credit, overlapping debts, eviction and other financial troubles may be prevented by proper budget planning. Having a personal budget that you prepare monthly may help you be on top of your finances and even have enough to keep for savings. For this purpose you can use free templates for Office applications like an Excel template that can help you prepare your monthly budget.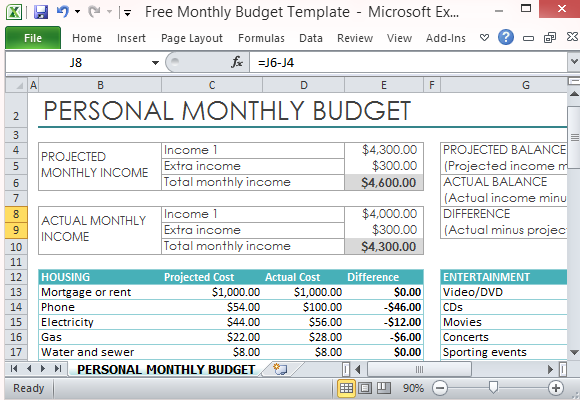 The Free Personal Monthly Budget Template for Excel can help you create your personal monthly budget so you can have a better look at your finances. This template already comes with expense categories so you can better organize your spendings. The expense categories are broken down into Housing, Entertainment, Transportation, Insurance, Food, Pets, Loans, Taxes, Savings or Investments, Gifts and Donations, Personal Care, and Legal. The categories are predetermined and cover most common expenses.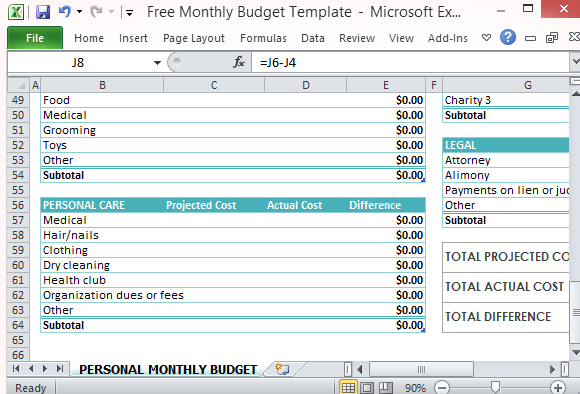 The Personal Monthly Budget Template also allows you to plan your income against your spendings. It lets you write in your Projected Income and your Actual Income, and your Projected Costs and Actual Costs. The expense figures are displayed side by side and then it shows the difference between the two so you can easily see if you have spent within your budget in each expense item and category. Any actual cost that is more than the projected cost would show as negative in the Difference column.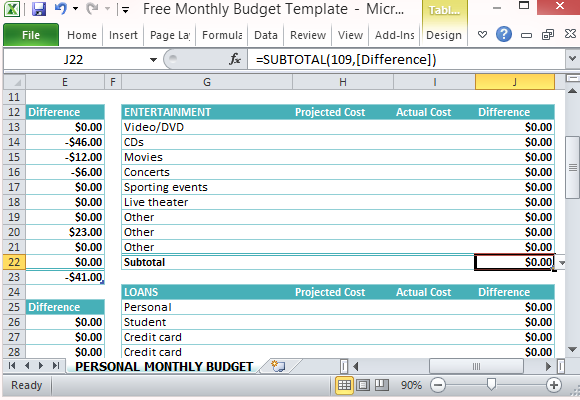 This free Excel template conveniently displays all the important monthly budget data on top of the worksheet, such as the Projected Monthly Income and Actual Monthly Income. These are each subcategorized into Income1, Extra Income, and Total Monthly Income. The upper part of the worksheet also contains Projected Balance, Actual Balance and Difference. The Difference automatically displays in red to show a negative figure, which means you have spent more than your monthly budget.
These data are automatically computed with the formula built in with the template so you are assured of accurate data. You can duplicate the worksheet for creating a budget for every month. Just label the tab to correspond each month and you can have a well-prepared budget to always help you be on top of your finances.
Go to Download Free Personal Monthly Budget Template for Excel