Kids of the 80s and 90s remember Pacman all too well. This Namco manufactured arcade game first graced the arcades in the 80s. For those of you who want to add some Pac-Man magic to your presentations, the Free Pacman PowerPoint Template is just what you need.
Create Your Own Custom Pac-Man Slides
This Pacman PowerPoint Template contains 1 title and 3 content slides, followed by a final concluding slide. You can download this template from SlideHunter for free and edit it to customize the sample Pacman layouts.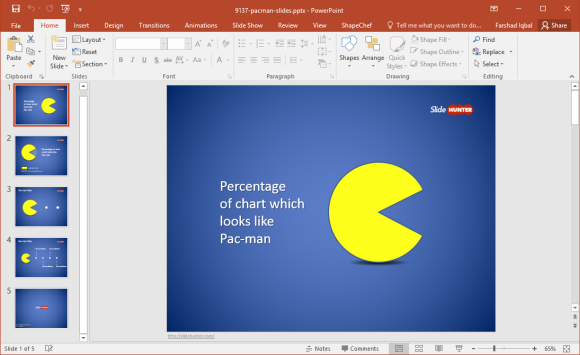 The sample Pacman layouts are completely editable. You can drag to move around objects within slides, recolor them or drag to resize them. This provides you with ample scope for creating custom Pacman slide layouts according to your liking.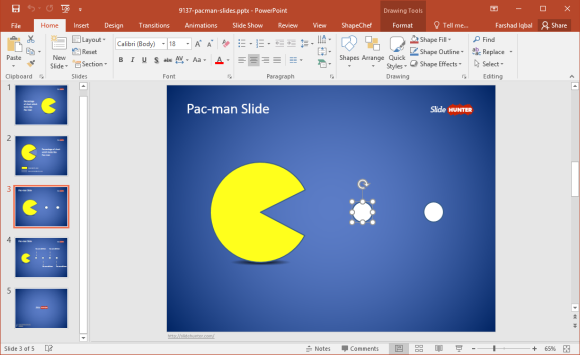 Chart Like Pac-Man Slides
The slides in this template depict the Pac-Man somewhat like a pie chart. You can also drag to change the size of the Pac-Man illustration, making it look like a pie chart. This way, you can make your presentations more interesting by making use of the Pac-Man theme for professional presentations. You can use the sample slides for creating Pac-Man charts to reveal your data, as well as add additional images and text to create custom versions of sample slides.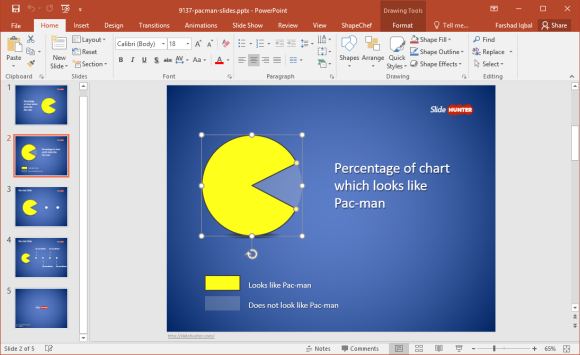 Create a Pac-Man Timeline
The fourth slide can also be used for generating a timeline. This can include a Pac-Man illustration (which can also be converted to a pie chart), along with a timeline made up of dots and text. This can be a fun way of creating presentation timelines that are both attention grabbing and memorable for your audience.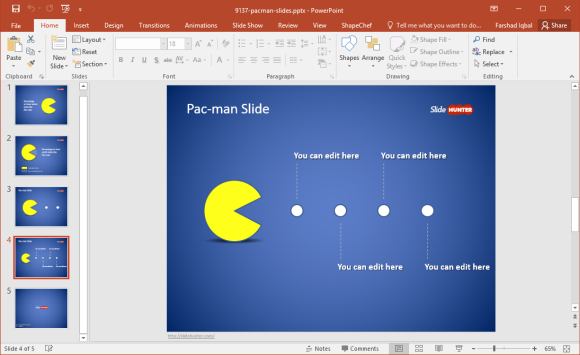 This free Pacman template is a PPTX template, which means it is compatible with PowerPoint 2007 and later editions. You might also be able to use it with older PowerPoint versions if you have a compatibility pack installed.