Companies, whether big or small, startup or big player, they need to have an organizational structure that would define the roles each member of the company plays. An organizational structure not only provides an overview of the job description of every member of the company. It also shows how each position relates with one another. It shows the tasks and responsibilities that correspond to each position.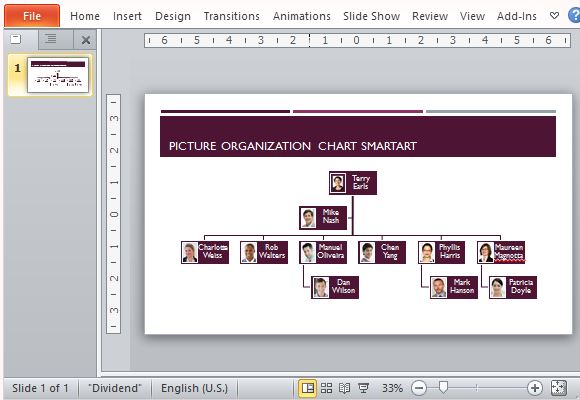 Create an Easy Organizational Chart
If you notice as you enter a company office, you can almost always see an organizational structure present. You can actually create one for your own using the Free Organizational Chart Template for PowerPoint that allows you to create a diagram that outlines the structure of your company. This PowerPoint Template is a visual representation of the roles, responsibilities, and relationships within an organization.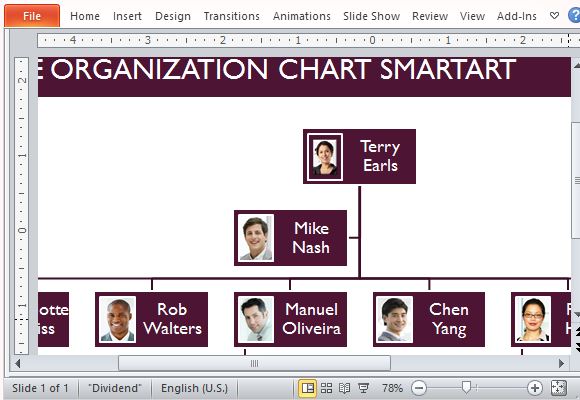 You can use this template for presentations involving business plans, company profiles, orientations, and more. All you have to do is insert the needed information to customize it to your own company. Then copy and paste the slide to your own existing presentation.
Put a Face Behind the Name
A beautiful and remarkable feature of this Organizational Chart Template is the picture format. The template allows you to insert pictures for each of the positions in the chart so you can put faces behind the names of people making up your organization. The professional design and elegant layout make this template suitable for many types of organizations because of its standard and highly customizable look.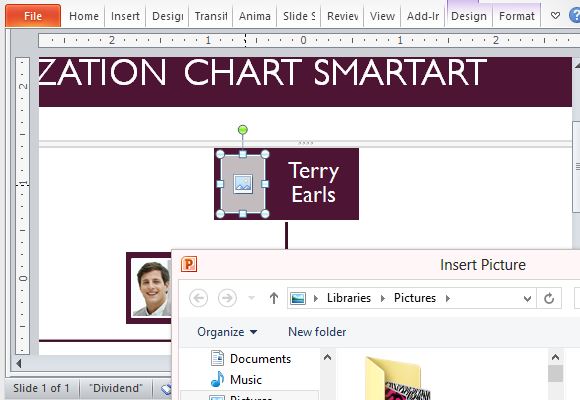 The template also features clean horizontal and vertical lines connecting the positions with each other and showing relationships within the organization. With this template, you do not have to create a diagram or chart from scratch. Simply delete the preset photos and insert photos from your own computer. Also type in your own personnel names and designations to complete your company's organizational chart.
Go to Download Free Organizational Chart Template for PowerPoint