A Non Disclosure Agreement, or Confidentiality Agreement, is a powerful document in business. It protects sensitive technical or commercial information from being made public to others. A Non Disclosure Agreement also protects products or technology under patent rights. It defines certain information which can be disclosed and can be kept confidential, while allowing the one or either party to claim a breach of contract and seek injunctive or monetary damages.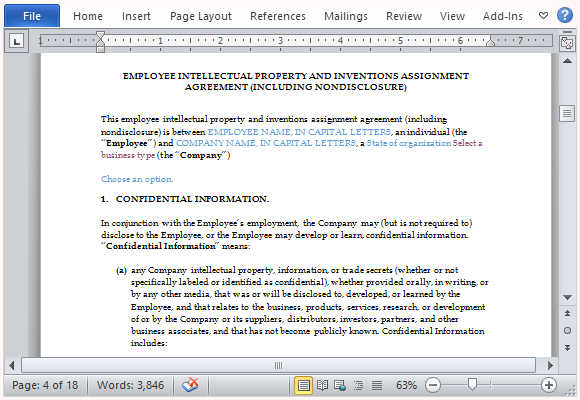 Create a Non-Disclosure Agreement in MS Word
The Free Non Disclosure Agreement Template is a well-written and very elaborate legal document that you can use to protect your company's or employer's intellectual property and other sensitive information. This information includes trade secrets, confidential data, know-how, designs, database, programs, formula, and other original works by the company. This 18-page document comes with a title page at the beginning and a signature page at the end. The inside pages have a preset footer consisting of page numbers and document title.
This free template is organized into 20 sections explaining in detail the various aspects of the agreement. Some of the sections are: Obligation to Maintain Confidentiality, Inventions, Third-Party Information, Return of Property, Ownership Rights, and Electronic Signatures. This agreement explains how employees should handle the company's trade secrets and intellectual property. It also indicates the measures of protecting any third-party information and how the employee's own work should be treated.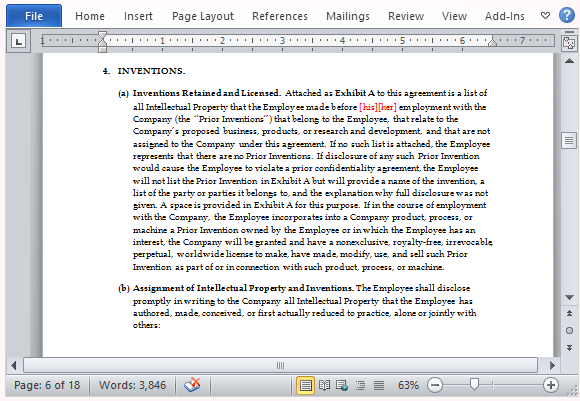 This Non Disclosure Agreement Template shows the parameters of the agreement and the possible repercussions of breaking any of the stipulations of the agreement.
The last pages of the template contains a List of Prior Inventions and Original Works of Authorship, in table format. This table contains the complete list of the company's intellectual properties, which are legally recognized rights of ownership of products conceived by the mind, or intellect. It also contains a table listing Inventions or Improvements, which are made or conceived by the employee, with or without other colleagues. The final page is a Certification that the employee complies with the Non Disclosure Agreement.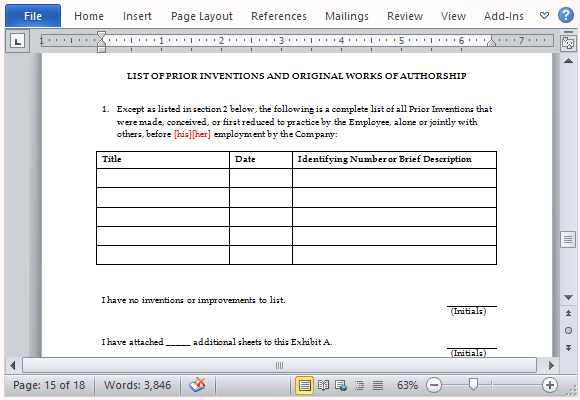 This Word Template works with Microsoft Word 2013 and earlier versions.