People are always interested to know what's in the headlines. Nothing can be as effective in getting people interested than telling them the latest news and relevant information. So if you want to get your audience interested with your presentation, you can channel the appeal of news and headlines using Free Newspaper PowerPoint Templates.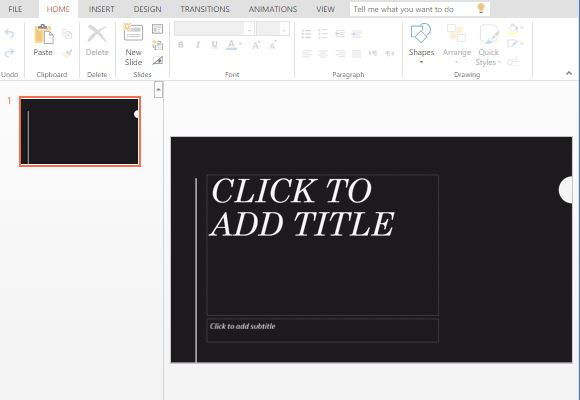 Create a Buzz with Headlines
The Headline PowerPoint Online Template is a beautiful, simple, and modern template inspired by newspaper headlines because of its bold and straightforward design. Like newspapers with its simplicity and straight-to-the-point look, this PowerPoint Online template also contains minimal images that may detract it from the most important part of the presentation, the content itself.
This free template features contrasting, clear, and coordinating fonts, highly contrasting colors, and stark graphics that help you highlight your information, making it highly readable and interesting. It has a black background with white coordinating font styles. And because of its special design, it can be used for many types of presentations for business, academic, and personal use.
To create your very own Headline-themed presentation, simply click on New Slide on the Home menu in the Ribbon to populate the accompanying slide layouts. You can choose from this set of professionally designed slides according to the information you want to present and how you would like it to look. Whether you are presenting slides with tables, charts, diagrams or simply text, you can ensure that they all look well-made and that they go together well.
Go to Headline PowerPoint Online Template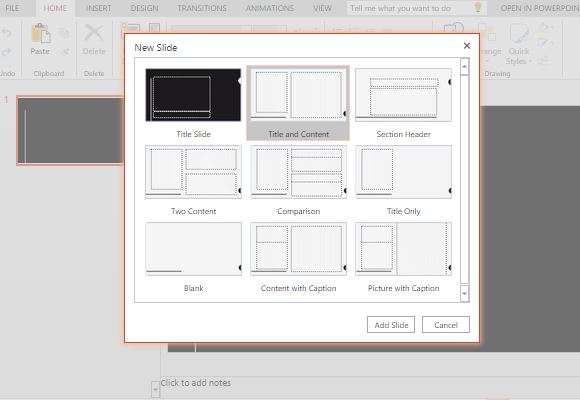 Get Your Daily Dose of News
Many people spend their mornings reading that day's newspapers while sipping on their first cup of coffee. Before the era of the internet, social media, and online news, people used to get their newspapers rolled up and thrown on their doorsteps or stuck into their mailboxes. The Newspaper Mailbox PowerPoint Template harks back on the earlier times and brings it into one interesting and effective news-themed presentation template.
This Newspaper Mailbox PowerPoint Template features a white and light-gray gradient background with a red accent. There is a set of red lines going across one side of the slide, and on the bottom right-hand side, there is an illustrated image of a red mailbox with a rolled-up newspaper inside it.
Although this template has a news theme, it can still be used for a wide array of presentation topics such as reports, breakthroughs, and updates. The image itself is a great cue for the audience to expect something new, interesting and relevant, so you can be sure that they have all their eyes on you and your slideshow.
Go to Newspaper Mailbox PowerPoint Template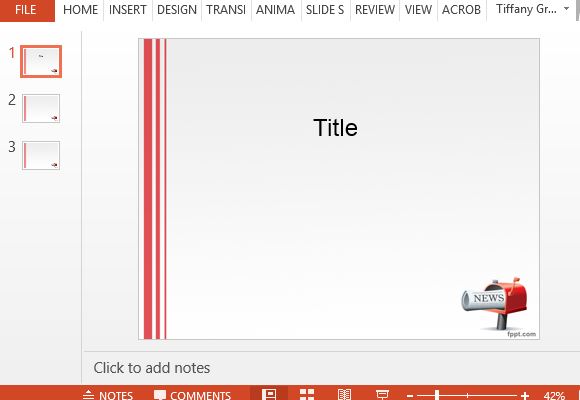 Welcome the Good News
In the newspaper industry, no news and good news may just as well be bad news for them because they have nothing to report and sell their paper to. However, for your PowerPoint presentation, you can still impart good news through this Red Themed Newsprint PowerPoint Template. With red being an essential element in any visual material aimed to catch people's attention, this template utilizes the color at its best. It features a bold solid red-colored blocks and lines to draw the eye on the slides. Meanwhile, the text is also in bold but black color, and everything is set on a gray background, similar to newspapers.
This template allows you to create all types of presentations, especially if you want to highlight certain information and make your audience pay closer attention to the information that you are presenting.
Go to Red Themed Newsprint PowerPoint Template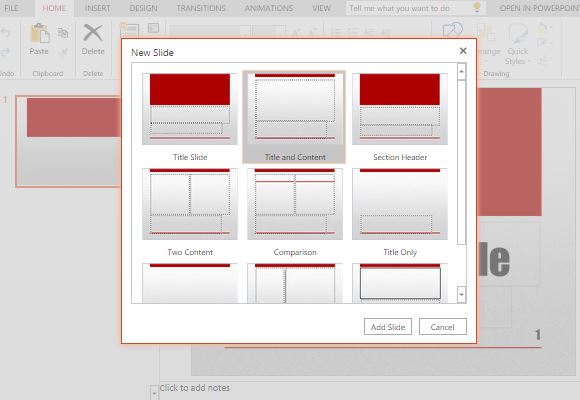 Break Your News as a Breaking News
When it comes to issues and information that matter to us, we are always on the lookout for what is latest. With the Breaking News Template for PowerPoint, you can announce the latest and most interesting developments about your company, organization, school, or just your household.
This template features abstract shapes in various shades of blue as its background. Meanwhile, the font styles coordinate with each other, ensuring high readability for your audience.
With this template, you can easily present your information in a professional manner. You can even modify the template according to what information you need to present to your audience, whether it is a table, graph, photo or diagram.
Go to Breaking News Template for PowerPoint