Companies and organizations often produce and publish newsletters as part of their marketing strategy. Newsletters are a great way of updating your customer, clients, members, friends and family about what is new in your business, organization or industry. In this post, we will discuss three free newsletter templates. These free templates for Office can help you design beautiful newsletters with just a bit of editing.

Book Club Newsletter Template for Word
The Book Club Newsletter Template is a letter-sized one-page newsletter layout that you can use for announcing new books and other organization events. The upper part of the template highlights a new book and displays book information and a summary or synopsis of the story or novel.  It also lets book club members to stay updated with Book Club Events that are happening within or outside the community. Aside from this, it also features a few book suggestions as part of the Monthly Reading List. The Newsletter template also schedules the next meeting.
This Newsletter Template works best with Word 2007 or later versions. It is ideal for use of many community organizations for its simple structure and layout.
Go to Download Book Club Newsletter Template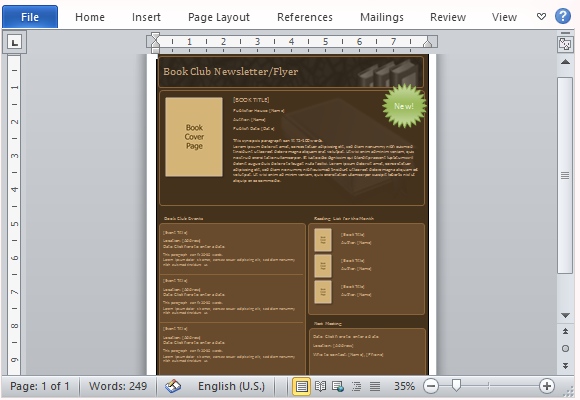 Email Business Newsletter Template for Outlook
The Email Business Newsletter Template for Outlook is a convenient and paperless way of reaching out to your clients or to employees within your organization. This newsletter template lets you conveniently create a news headline and other articles for your audience and send the newsletter via email in Microsoft Outlook.
The business theme makes it perfect for corporate news and updates. The graph on top of the newsletter can be replaced with the company's monthly sales figures or with the company logo. This template is a great way of creating a newsletter that would motivate employees on one hand and impress your clients on the other.
Go to Download Email Business Newsletter Templates for Outlook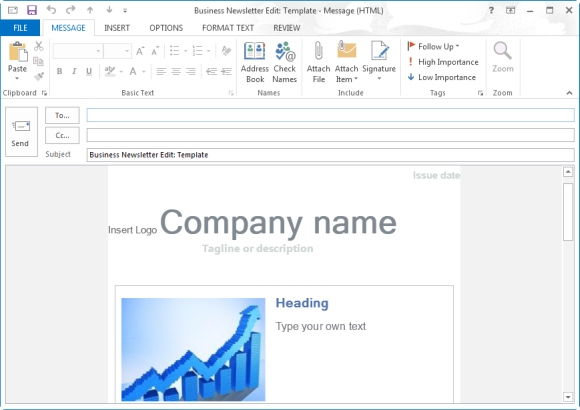 Two-Page Newsletter Template for Publisher
The Two-Page Newsletter Template for Publisher is works best in Publisher 2003 or later versions. This newsletter template can make your company's newsletter look comprehensive and professional. If you want your company to reach out to your market and talk about latest news in your organization and in your industry, then this newsletter template is perfect for you.
This template has two pages and has enough space to feature up to three headline stories. You can also insert photos and captions for further make your newsletter attractive. It contains a sidebar on each page for your newsletter's title and other information. It also has room for mailing addresses on the back for readers who want to subscribe and receive regular newsletters.
Update:
The template mentioned in this post is not available anymore, you can download an alternative template via the link below.
Go to Download Newsletter Template for Publisher (Alternative Template)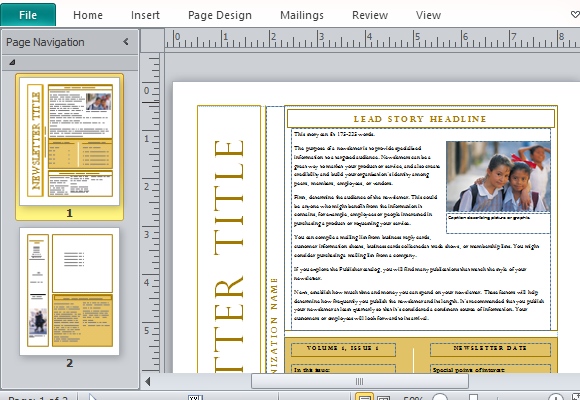 Note: You can also download more Free Newsletter templates for Microsoft Office applications like Word and Publisher from the link given below.