In layman's terms, your net worth is basically everything that you have earned and spent. Your net worth is your earnings minus your spendings and liabilities. Calculating your net worth will help you determine your financial health.
Net Worth Calculator Template for Excel
The Net Worth Calculator is a free Excel 2013 template that can help you determine your net worth using its spreadsheet and built-in formula and formatting. This template shows your net worth in an interestingly visual format.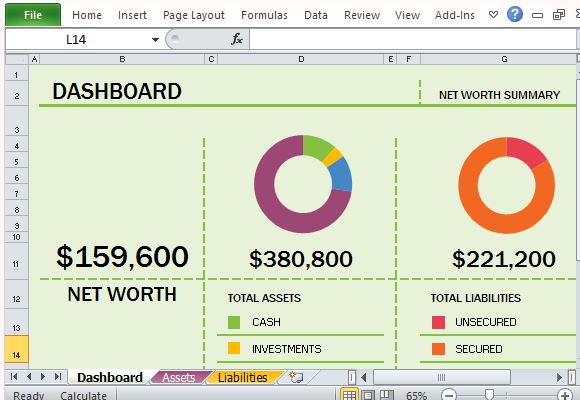 The Net Worth Calculator template contains three tabs: Dashboard, Assets, and Liabilities. The Dashboard contains your net worth data summary. It shows your net worth amount in big bold letters. Next to it is a visual representation of your Total Assets and Total Liabilities, each in a donut chart. These donut charts show the various sources of your assets and liabilities.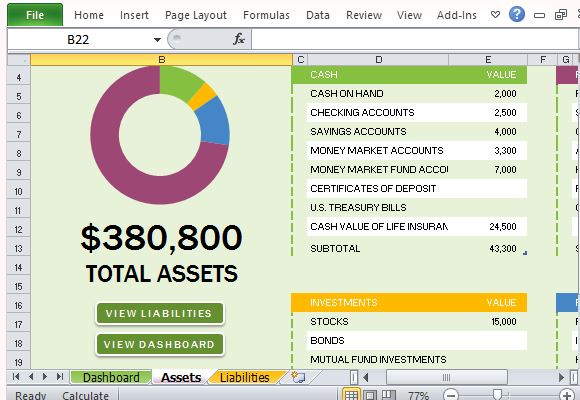 The second tab contains all your Asset information. The donut chart is still dominant in the worksheet, with tables of your assets separated into categories. You can organize your assets into Cash, Personal, Investments and Retirement. Tbe Cash Assets are sub categorized into Cash on Hand, Savings Account, Money Market Accounts, Money Market Fund Accounts, Certificate of Deposits; Personal Assets are basically your belongings, such as Principal Residence, Collectibles, Automobiles, and Home Furnishings. Investments are subcategorized into Stocks, Bonds, and Other Investments; Retirement Assets are your Pension, IRA Accounts, and other assets put away for your retirement.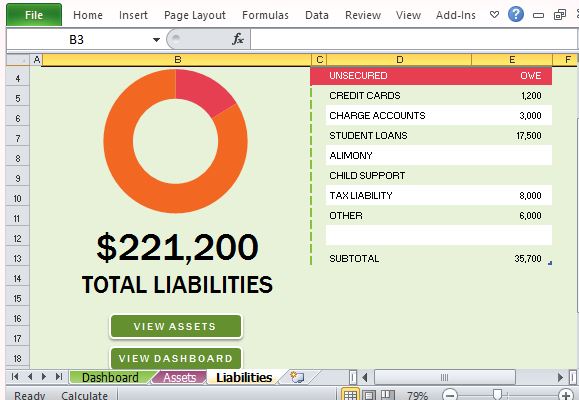 The third and last tab contains all your Liabilities information. This worksheet also contains a donut chart and a set of tables. The tables contain your sources of Liabilities, such as Unsecured and Secure liabilities. The Unsecured Liabilities are your Credit Cards, Charge Accounts, Student Loans, Alimony, Child Support, and Others; the Secured Liabilities contain Auto Loans, Appliance Homes, Home Mortgage, Home Equity Loans, Tax Liability, and Others.
The Assets and Liabilities tabs have a convenient feature of allowing you to easily toggle to other tabs just by clicking on the buttons built into the worksheets. Also, your charts display your data live, which means it updates automatically as you type in your information.