A few years back navigation wasn't as easy as it is today. People had to rely on maps and GPS wasn't as easy to use as it is today with the aid of map applications like Google Maps. Whether you are an avid Google Maps user like me or like sticking to the old ways by using maps and good old advice from people you can find along the way; the Free Navigator PowerPoint Template can fulfill all your needs for making a presentation about navigation.
Navigation Themed Slides
With an attractive green backdrop, the template depicts a tablet with a map application. The car in the backdrop on the title slide over the blue horizon on an isolated road gives the perfect sense of the need to navigate your way to get to your desired destination by acquiring some digital GPS help.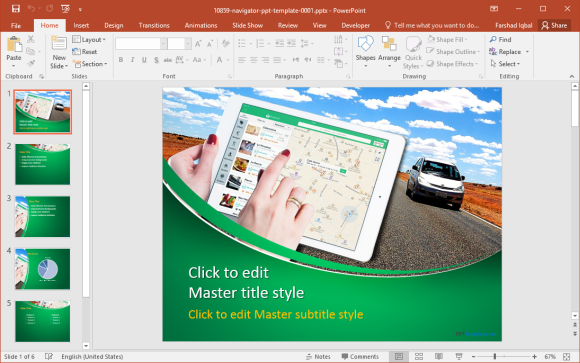 Greenish Slide Layouts with Navigation Related Images
There are sample slides that sport the same greenish layout with some images located at the side or top of the slides to make the slides easy to edit and at the same time, visually appealing.
This is quite a straightforward template with a basic design. You might need to get a little creative when making your presentations by adding your own images, infographics, timelines and charts. There are some sample slides which do lay the groundwork for you to be able to add some of the aforementioned. Like the chart slide in the fourth slide and the comparison slide in the fifth slide of the template.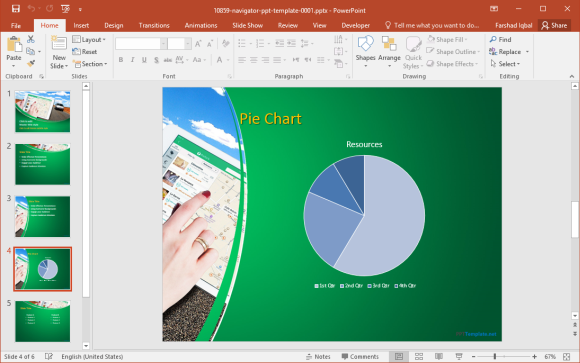 This Free Navigation PowerPoint Template is compatible with PowerPoint 2007 and later versions. You can download this template for free via PPT Template. The website requires using a social action button at the bottom of the product page to download the template.