Nature evokes feeling of beauty, calmness, serenity, and simplicity. With the right template for your presentation, you can echo the easy magnificence of nature. You can use this nature-inspired PowerPoint Template to evoke a whimsical, artistic, and beautiful charm using the colors found in flowers, leaves, plants and insects all around us. 
This Free Nature PowerPoint Template with Illustrated Landscape is a beautiful template that features rolling hills, multi-colored trees, and clear blue skies. It is a fun, vibrant and interesting template that you can use for many types of presentations, whether it is for business, education and training, charity, or personal purposes.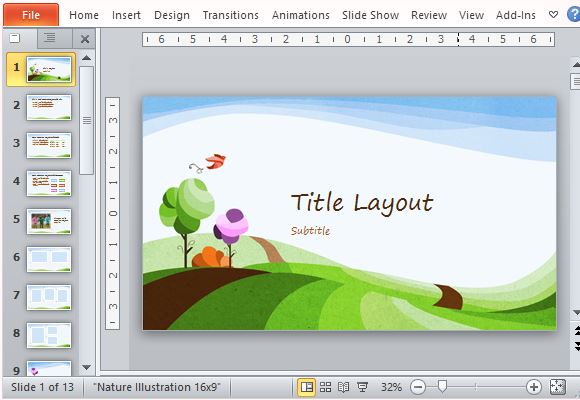 Fun and Vibrant Colors of Nature
What is great about this template is that it is colorful and artistic, yet it can still maintain a professional look for the whole presentation. It is well-composed and beautifully designed for both light and formal topics, such as corporate presentations. The main theme of the presentation makes it look like a landscape artwork, with different shades making up the colors of the images.
Because of its design, this template can be used for presentations involving environmental advocacies, ecological conservation, wildlife preservation, nature, tourism, travel, education, photography and even children's stories.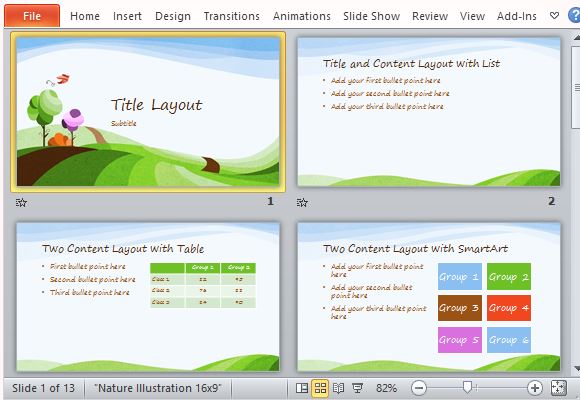 Multiple Slide Layouts to Choose From
This nature-inspired presentation contains 13 slides that you can use for showcasing and presenting your various information, figures, tables, objects, text and images. The slide layouts make your presentation more interesting, allowing your audience various views of your presentation content.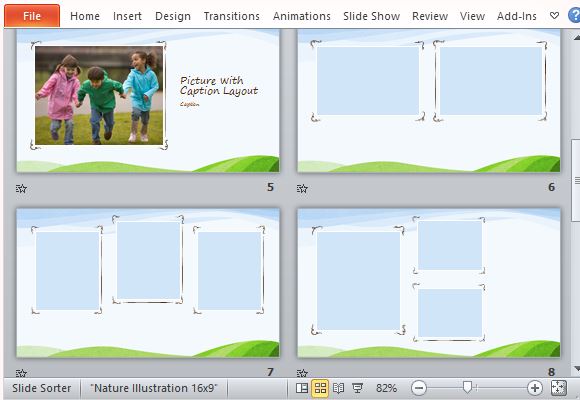 The presentation template starts with a beautiful cover slide with creative fonts to make it look like handwriting. The layout is already built-in with the presentation so all you have to do is to duplicate the slides that you want, to complete your slideshow.
Go to Download Free Nature PowerPoint Template with Illustrated Landscape