Many would agree that one of the most evil inventions by mankind is the alarm clock. We hate waking up to its sound and keep snoozing it but the fact remains we all need to reach office on time in the morning. Free Morning Alarm Clock PowerPoint Template depicts the sinister enemy of our sleep, the alarm clock!
Alarm Clock PowerPoint Template
The alarm clock illustration in this template depicts a woman turning off an alarm clock in the morning. You can use this template to create presentations on topics like punctuality, sleep deprivation, benefits of waking up early in the morning, work-life balance, and the like.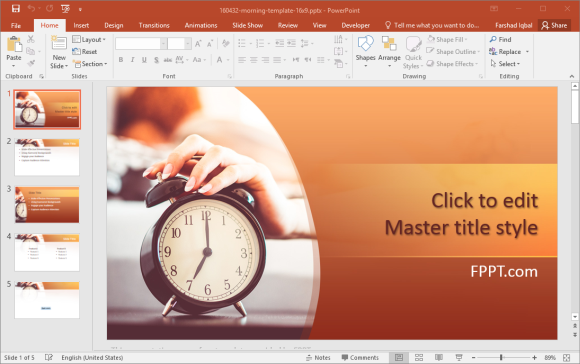 The slides come in two variants, i.e. a white background and a brownish backdrop. You can mix and match the two or use the layouts that you like. Some of the sample slides give layouts for making text based slides, lists and comparisons. You can access additional layouts through the Layouts menu located in the Home tab in PowerPoint.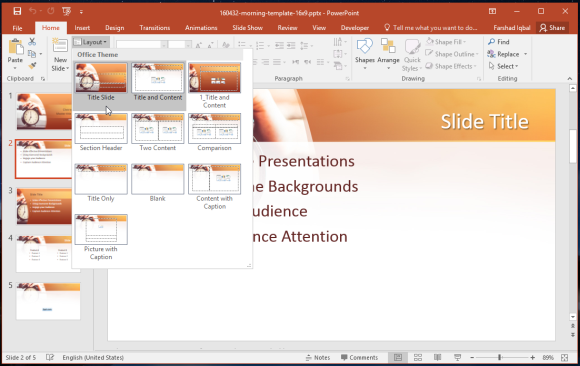 Customize the Template as Needed
This would unlock various types of additional layouts such as two content, picture with caption, content with caption, blank, section header, etc. You can also design your own layouts by making use of the sample background designs.
The alarm clock illustration is creatively placed across various slides on the top or the side of the slide to make your content more visually appealing.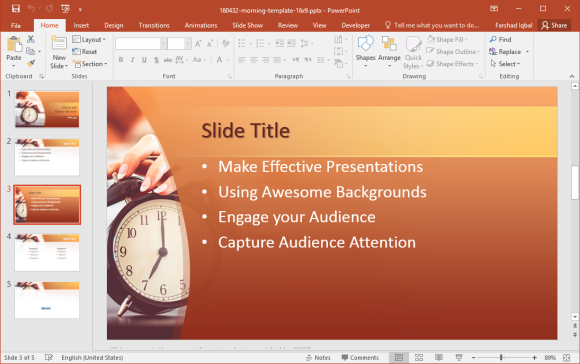 The Free Morning Alarm Clock PowerPoint Template is a PPTX template, which means you can use it with all latest editions of PowerPoint.