Some weeks are rough. Others are more relaxing and leave a sense of calm. Be it the workplace or home, there times of both calm and anxiety that can be recorded in a mood diary for various purposes, such as to keep a check on your health and well-being. The Free Mood Calendar for PowerPoint can be used for making a mood diary to define your daily and weekly mood in the form of PowerPoint slides.
Emoticons with Different Moods
There are two sample slides in this template, each with a mood calendar with different emoticons representing various moods.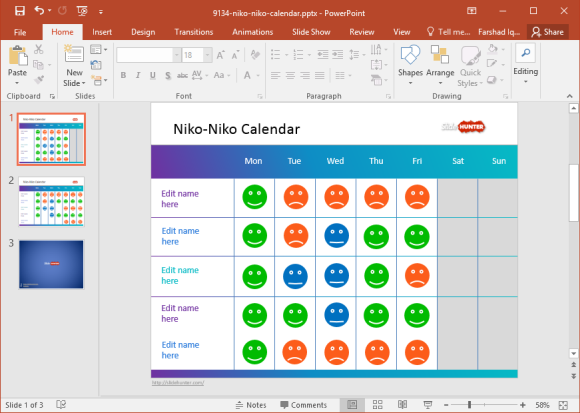 Move Around & Recolor Mood Icons
This free PowerPoint template for PowerPoint is highly customizable, as individual objects can be copied, removed, recolored, resized and replaced with ease. You can copy these emoticons to create your daily and weekly mood calendar, as well as recolor them using PowerPoint Drawing Tools. You can also give different colors to different moods to make them more reflective of various feelings.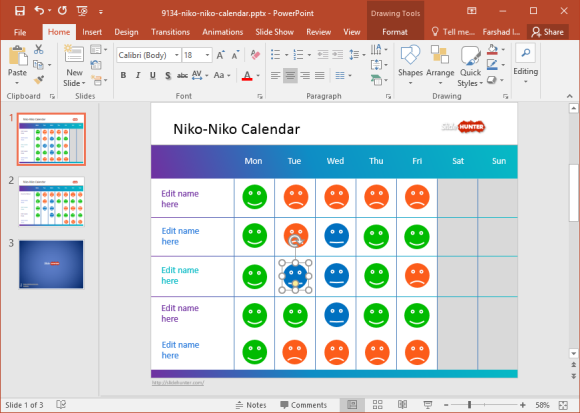 Add a Description for Your Weekly Mood Calendar
Your weekly mood can be reflected by adding a description to the given text-box alongside each week. This way, you can track your mood and create a monthly mood based calendar to see what days you were in your best mood. You can use this generic calendar in a plethora of ways, such as to make a moodboard or mood calendar for investors, clients, students at school, etc.
You can also add additional text-boxes and duplicate the sample slides to create a comprehensive slide deck with this simple calendar template. Similarly, you can use one of the calendar slides in this template to insert it in an existing presentation.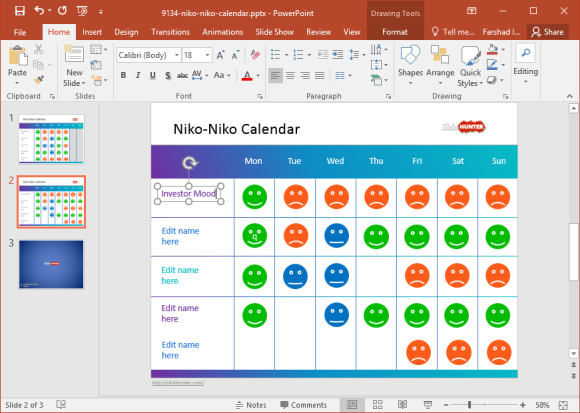 This free mood calendar can be downloaded from SlideHunter.com, which is also home to a plethora of free presentation templates for PowerPoint.