If you are involved in the financial industry, you know that at times you may need presentations about many topics, ranging from motivational financial literacy seminars to the current state of the stocks. When this happens, you would need presentations that are not only powerful and compelling but are also appropriate for your topic and line of work.
Below are some Free Money PowerPoint Templates that can help you create beautiful, professional, and powerful presentations for any topic and occasion.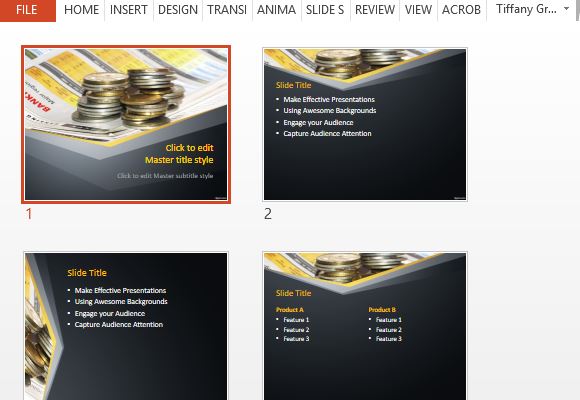 Free Money Template
No money comes for free–except maybe for this Free Money Template for PowerPoint. This template has a unique bill design on a rich green background with a 20-dollar bill watermark, making it perfect for investment banking and other money-related presentations. It can also be used for crowdfunding and startup slideshows.
This PowerPoint template contains preset slide layouts that you can add, rearrange, and modify as you complete your own presentation. You can also add charts, tables, diagrams, images, and even videos to make your presentation interesting and concise.
Go to Free Money Template for PowerPoint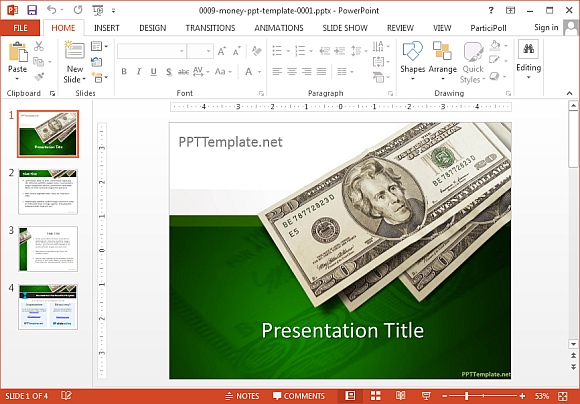 Time is Money
Time indeed is money and this next presentation template will remind you and your audience of that. This Time Management and Money Template is perfect for financial literacy and motivation presentations, as well as for many financial and business slideshows.
This template features a clean white background with teal and gray blocks to add a splash of color. To further drive home the importance of proper time management in the race for money and wealth, the template also has images of an hourglass with green sand to represent money, as well as images of gold coins. This theme is prevalent through the rest of the sample slides to give your presentation cohesiveness and to keep your message present throughout every slide.
With this template, you can also add tables, lists, graphs, charts, timelines, diagrams, and many other visuals to make your presentation eye-catching and memorable.
Go to Time Management and Money Template for PowerPoint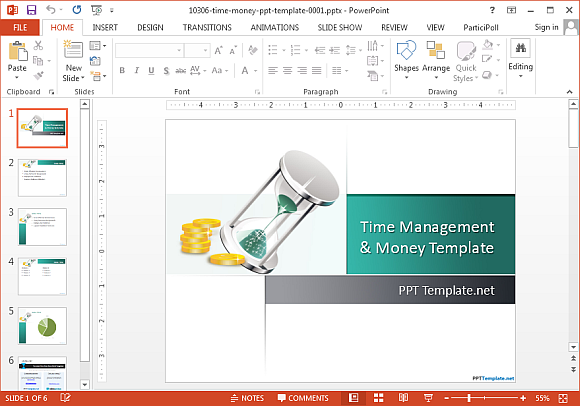 Cash in on Your Business Ventures
The Business Cash Money PowerPoint Template is another professionally designed PowerPoint template that can help businesses and individuals make winning presentations. This template can also help them make presentations that tackle points on their own businesses and financial goals, as well as tips on how to make sound financial decisions.
With this template, you can create a convincing, compelling, and memorable presentation that will allow you to empower other people to take control of their finances and their future. You can also use this template to tackle other financial subjects, such as financial or accounting reports, cash flows, balance sheets, as well as investors' updates.
Go to Cash Money PowerPoint Template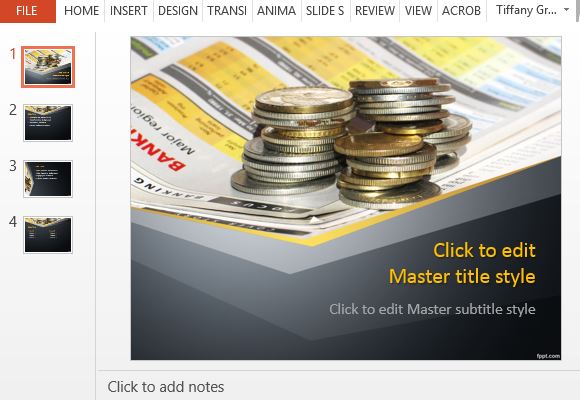 Currency Talks
The Free Currency PowerPoint Template is a beautiful template that has a clean layout and a currency theme. This template is perfect for financial presentations as well. With a moneybag image prevalent throughout the slides, the template is particularly ideal for banking. Financial institutions like banks and many other companies involved in the same industry can also use this template, which requires minimal modification in terms of its universal design.
This template is professionally designed and features many types of slide layouts that you can rearrange to build your own unique presentation. If you are a part of a financial institution or company, you can easily add your company logo and other branding elements to further make the template your own.
Go to Free Currency PowerPoint Template